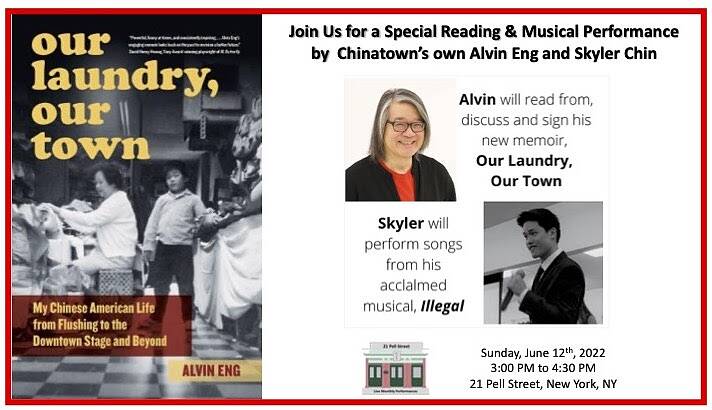 Reading
In-Person Book Reading with Musical Guest, Skyler Chin
Sunday, June 12, 2022
3 – 4:30PM
21 Pell Street is proud to present Alvin Eng with musical guest, Skyler Chin on June 12, 2022 from 3:00pm to 4:30pm at First Chinese Baptist Church at 21 Pell Street, New York, NY 10003.
Author, playwright and acoustic punk raconteur Alvin Eng will read from, discuss and sign his newly published memoir "Our Laundry, Our Town: My Chinese American Life From Flushing to The Downtown Stage And Beyond".
Skyler Chin, the musical guest, will perform songs from his acclaimed new musical "Illegal".
Program will include a conversation with Alvin & Skyler, followed by a Q&A with the audience.
No reservations, first come, first served.
Event: Alvin Eng With Musical Guest Skyler Chin
Date: June 12th, 2022 (Sunday)
Time: 3:00pm - 4:30pm
Venue: First Chinese Baptist Church
21 Pell Street, New York, NY 10013
Free admission. Seats are limited. First come, first serve.
No registration is needed.
Please bring Vaccination card for verification. Masks suggested.
Due to COVID-19 safety precautions, space is limited. Admission will be of closed once capacity is met.
NYS Vaccination cards + IDs or NYS Vaccination QR code is required for admission.
Alvin Eng will sign his new memoir at the event. Books can be purchased in advance at Yu & Me Books (44 Mulberry St).
"An evocative perspective on the Chinese American experience, a personal time-capsulated journey from immigrant Chinatowns back to China's motherland. Eng creates a memoir-style blend of satire, sociology, and history to explore familial relationships, issues of identity, race, societal expectations—a multi-generational spin on assimilation and 'Americanization' that struggles through 'longing to belong.' Eng is a gem."
—HENRY CHANG, author of the Detective Jack Yu crime novel series
Bios
Alvin Eng is a native NYC playwright, performer and educator. His plays and performances have been seen Off-Broadway, throughout the U.S, as well as in Paris, Hong Kong and Guangzhou, China. His memoir, Our Laundry, Our Town: My Chinese American Life from Flushing to the Downtown Stage and Beyond, was published by Fordham University Press in May 2022. Three Trees, the first of Eng's Portrait Plays Cycle of Historical Dramas about Artists and Portraiture, was published by No Passport Press in 2021. He was awarded a 2022 LMCC Creative Engagement grant for a "Hong Kong Handover: 25 Years Later" symposium in conjunction with his acoustic punk raconteur solo show, Here Comes Johnny Yen Again (or How I Kicked Punk). www.alvineng.com
Skyler Chin is a 6th generation Chinese American playwright and composer from New York. In 2019, in recognition of Skyler's work representing diverse stories and an authentic female kung fu narrative by creating ILLEGAL, he received the Yale Tsai CITY Arts Innovation Award, the Pauli Murray Outstanding Achievement in the Arts Award, and the Harvard-National Arts Fellowship to study martial arts, stage combat, and film in Southern China under Sin Kwok Lam, producer of Ip Man (2008). www.skylerchin.com