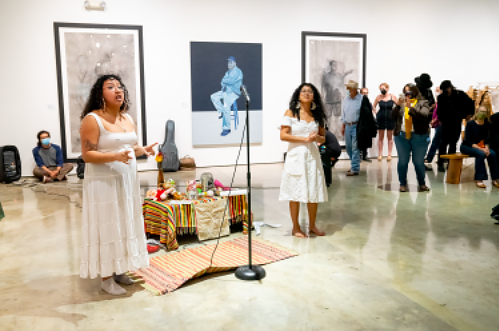 Panel Discussion/Talk
Understanding Artist Visas: Your Questions Answered
Tuesday, June 14, 2022
6 – 7:30PM
Join immigration attorney Michael Cataliotti for a town hall style discussion/Q&A on legal options for international/immigrant artists, entertainers, and entrepreneurs who seek to pursue an artistic career in the United States.
In this pay-what-you-wish virtual program, Part 2 of a two-part online program, Mr. Cataliotti will go through some of the frequently asked questions for artist visa and immigration process, and answer questions live from the audience. No matter if you are currently in the U.S. or are looking to enter the country, you'll walk away with a clearer sense of the immigration process and what you can, or cannot, should, or should not do when pursuing a visa. Artists in all disciplines are welcome to join.
Please note: These online workshops are a guide and for general informational purposes only. It does not provide any specific legal advice nor create any attorney-client relationships.
Event Breakdown
What: Understanding Artist Visas: Your Questions Answered
When: Tuesday, June 14, 6:00 PM – 7:30 PM ET
Where: Virtual on Zoom
Audience: Artists of all disciplines who seek to pursue an artistic career in the United States
Presenter: Michael Cataliotti, Attorney & Counselor at Law
Cost: Pay what you wish
Register: Register here
Questions: Email immigrantartistrc@nyfa.org
Check out and register for Part 1 of "Understanding Artist Visas" series here.
Additional Details
Participants will recieve the Zoom link upon registration. This event will not be recorded.
Presenter's Bio
Michael Cataliotti, Esq. is an attorney who has worked with and advised businesses from Fortune 500 companies to start-ups, as well as prominent athletes, artists, entertainers, and entrepreneurs, such as international media conglomerates, BMG North America, Music at Work B.V., Lena Erziak, CB Insights, BotFactory Inc., and Soley Beverage Group.
A graduate of Hofstra University and St. John's University School of Law, Cataliotti specializes in advising individuals and entities from such industries as sports, music, fashion, film, television, art, sciences, and technology about how to reach their respective corporate and immigration goals.
Cataliotti is admitted to practice in New York and is a regular contributor to the New York State Bar Association's Entertainment, Arts and Sports Law Journal; a faculty member at Lawline CLE; a frequent speaker on the topics of corporate transactions, sports and entertainment immigration, and entrepreneurship; a member of the American Immigration Lawyers Association (AILA) where he is an active participant on several committees; and was has been recognized as one of Super Lawyers' "Rising Stars" since 2018. He is frequently contacted by other attorneys for advice and guidance regarding complex business immigration matters and corporate structuring.
This program is presented by the Immigrant Artist Resource Center (NYC), which is part of NYFA Learning, the professional development arm of NYFA. Sign up for NYFA's free bi-weekly newsletter to receive updates on future programs for artists and arts administrators.