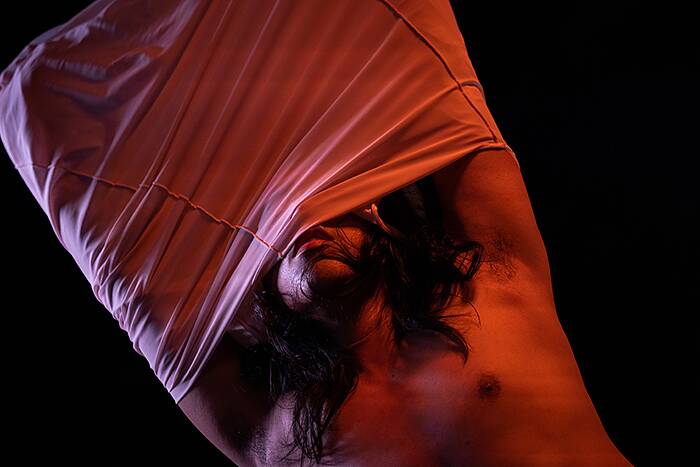 Panel Discussion/Talk
IMAGINING DIGITAL | WORD!: ANH VO
Tuesday, October 4, 2022
6PM
Anh Vo will deliver a lecture on the notions of devotion and sacrifice. Particularly, Vo will study the writings of Ho Chi Minh, Mao Zedong, and Jacques Derrida, speculating on the haunting afterlives of failed revolutions and ideological deaths.
ABOUT ANH VO
Anh Vo is a Vietnamese choreographer, dancer, theorist, and activist. They create dances and produce texts about pornography and queer relations, about being and form, about identity and abstraction, about history and its colonial reality. Currently based in Brooklyn, they earn their degrees in Performance Studies from Brown University (BA) and New York University (MA).
Their choreographic works have been presented nationally and internationally by Target Margin Theater, Dixon Place, MR @ Judson, Brown University, Production Workshop, Centro de Arte Dos de Mayo (Madrid), greenroom (Seoul), Montréal arts interculturels (Montréal), among others. Their artistic process has received support from Brooklyn Arts Council, Foundation of Contemporary Arts, Women and Performance, New York Live Arts, Leslie-Lohman Museum, Brooklyn Arts Exchange, Jonah Bokaer Arts Foundation, Tisch/Danspace, and the Performance Project Fellowship at University Settlement.
As a writer, they are the founder and editor of the performance theory blog CultPlastic, the Co-Editor of Critical Correspondence, and a frequent contributor to Anomaly. Their writings focus on experimental practices in contemporary dance and pornography. Their BA honors thesis, which examines the intersection of pornography and choreography in policing sexual subjectivities, is nominated for the Distinguished Thesis Award. Their texts have been featured on Walker Reader (USA), Women and Performance (USA), Real Life Magazine (USA), Critical Correspondence (USA), Protocols (USA), The Indy (USA), Etcetera (Belgium), Blackness and the Post-modern (Finland), and The Theatre Times (Canada).
We encourage you to join this digital event in real time to participate in discussion and artist Q&As! However, if you are unable to join us at the time of the event, the full recording will be made available to all attendees 48 hours after the live event. Patrons will have access to that recording for 10 days via Gibney's Vimeo account.
WORD!, curated by Eva Yaa Asantewaa, presents short performances of storytelling, monologues, spoken word, stand-up, or creative talks.
Photo by Maria Baranova.