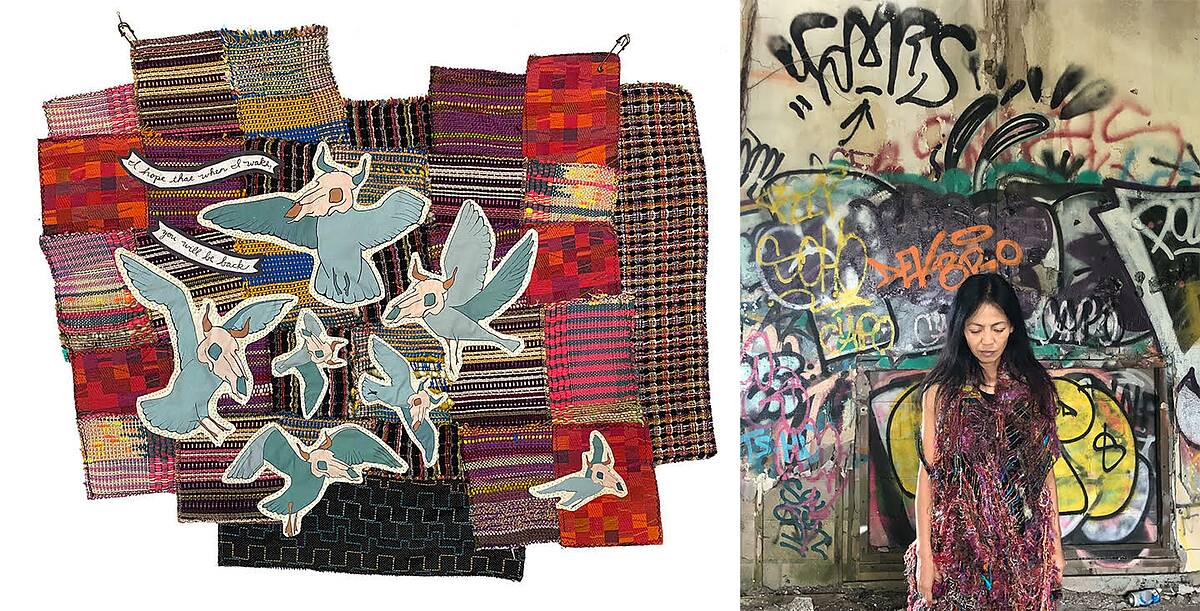 Exhibition
I'm Uncomfortable. You Should Be, Too.
September 30 – October 20, 2022

This fall the Loop of the Loom Dumbo weaving studio presents a collaborative exhibition with SAORI weavers Juliet Martin and Nobuko Tsuruta, "I'm Uncomfortable. You Should Be, Too." The exhibition tells of discomfort through two different voices. By displaying the different styles of Juliet and Nobuko together, the voice of discomfort is even stronger. SAORI weaving is known for its free-form, "there are no mistakes" philosophy. While Juliet and Nobuko are both SAORI-certified, their interpretation of this philosophy is very different. Nobuko's sculptures are flowing and organic; her pieces whisper, seep into your subconscious. Ragged threads and amorphous shapes hang subtly, creating a sense of movement. Her openness inspires the viewer to look inward, uncomfortably, seeing more of yourself than you are ready for. Their strength lies in abstraction. Juliet's work is more structured, combining illustrations printed on fabric with tightly woven tapestries. Drawings collage anachronistic objects, creating new creatures. Scattered eyes force you to look back. The combination and the discord between the eyes, the creatures, and the weaving creates a sense of unease.
Both use dynamic compositions that are as much poetry as they are artwork. By contrasting abstraction and illustration, together they will make you uncomfortable, too.