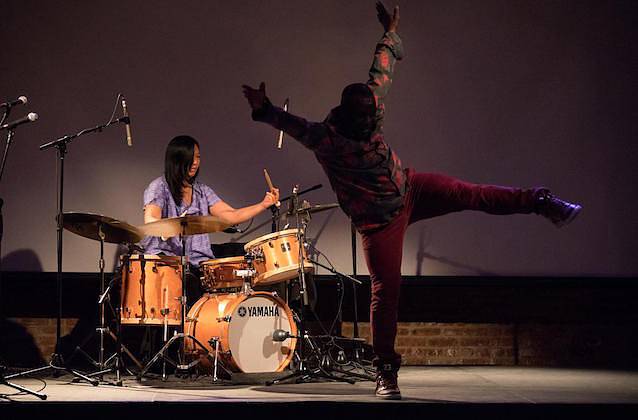 Fragility: An Exploration of Polyrhythms
June 8 – July 9, 2018
7:30 – 8:45PM
Fragility: An Exploration of Polyrhythms is the world premiere of drummer/composer Susie Ibarra's new immersive performance. Using polyrhythms as a model for human interdependence, Ibarra captures the concept of fragility through music, exploring the subtle intersections that affect relationships. Ibarra conceives the musical structure of Fragility as a 'game piece' in which the rules require performers to take turns conducting action: shifting roles and perspectives in live experimentation
Drawing on deep knowledge of Asian and jazz percussive traditions, Ibarra leads audiences on a journey into a mesmerizing musical environment. An ensemble of seven musicians creates multi-layered, expansive sonic textures. Dancer Souleymane Badolo interacts with custom-built motion capture technology in which the dancer's movements trigger recorded sounds to create a live rhythmic composition. The performance of Fragility takes place in the Asia Society Museum's Starr Gallery with musicians at the center, audience surrounding them, and all enveloped by the multi-channel surround sound installation.
Performances of Fragility: An Exploration of Polyrhythms take place on: Friday, June 8, 7:30 p.m. Saturday, June 9, 7:30 p.m.
"Ibarra has made a career out of exploring the dimensions of rhythm and texture; she doesn't approach the drumkit with a sense of rigid utility or preconceived methodology." - WBGO Jazz 88.3
Concept and Music Compositions: Susie Ibarra Choreography: Souleymane Badolo Sound Engineering and Sound Design: Justin Frye Stage Design and Lighting: Clifton Taylor Interactive Systems Design: Tommy Martinez DreamTime Ensemble: Claudia Acuña, vocals; Jennifer Choi, violin; Yves Dharamraj, cello; Justin Frye, bass; Yuka C. Honda, electronics; Susie Ibarra, drumset and percussion; and Jake Landau, guitar and keyboard Commissioned and produced by Asia Society as part of Creative Common Ground, an initiative that expands contemporary performance practice by commissioning, producing, and presenting artists who explore beyond traditional disciplinary boundaries. The initiative is supported by a generous grant from The Andrew W. Mellon Foundation. Fragility: An Exploration of Polyrhythms has been developed in partnership with Pioneer Works with additional support from the Foundation for Contemporary Arts Emergency Grant during the residency phase.
Organized by
Asia Society
Contact
chsieh@asiasociety.org