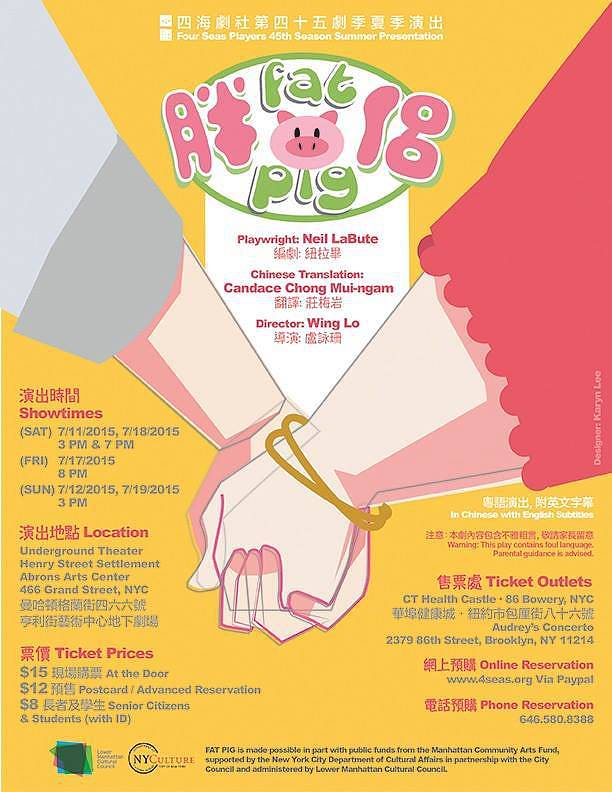 Fat Pig
July 11 – July 19, 2015
3PM
Four Seas Players opens their 45th Summer Season with a romantic comedy in two acts – FAT PIG, written by Neil LaBute and directed by Wing Shan Lo, both in Cantonese with English subtitles.
FAT PIG was the winner of the Winner of the Outer Critics Circle Award for Outstanding Off‐Broadway Play in 2005 and Nominated for Laurence Olivier Awards for Best New Comedy in 2005
Beauty, as they say, is in the eye of the beholder. Tom is a young man who is searching for love with beauty in this modern tale. Unfortunately for him, he hasn't found the perfect woman… until now. Fat Pig tells the story of Tom, a stereotypical professional in a large city, who falls for a very plus‐size librarian named Helen. They meet in a crowded restaurant at lunchtime and get to talking. On this chance meeting he falls for Helen. Helen is not your typical beauty. She is well‐endowed, very vivacious and has an appetite. Tom and Helen seem like an unlikely pair physically but Tom sees her inner beauty. In other words, he sees women with good personalities as beautiful. Tom is taken with her brash acceptance of the way people see her and her honesty. His office acquaintances tease and cajole him about this budding romance and this bothers him. Can his relationship sustain itself or implode to social influences? Can true love prevail?
Tags
Organized by
Four Seas Players
Contact
fourseasplayers@yahoo.com