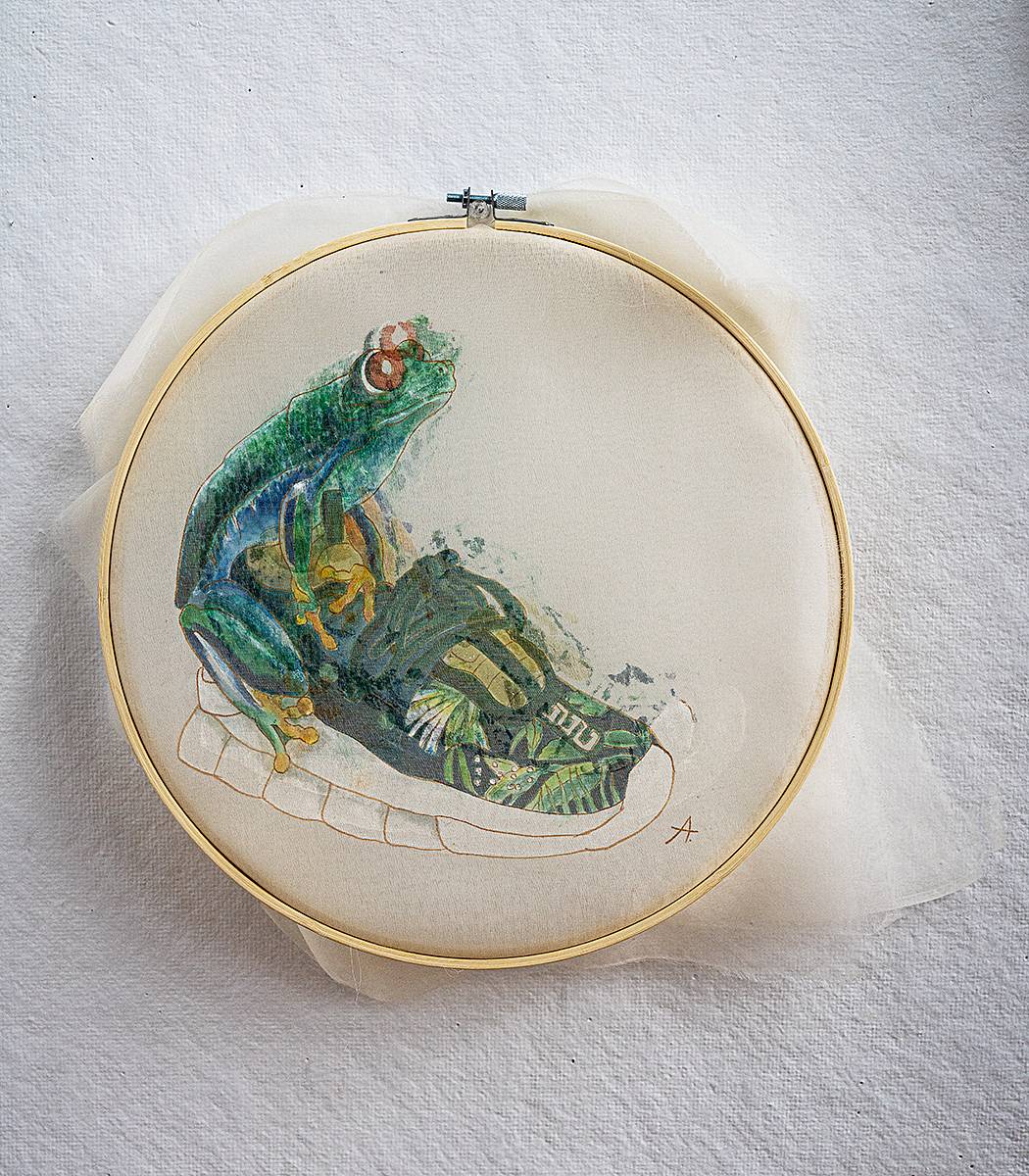 Exhibition
Exhibition: Matters — Works on Silk by Aomi Kikuchi & Meet the Artist
December 11, 2019 – February 4, 2020
9 – 10PM
CRS presents MATTERS, an exhibition of nine works by the award-winning Brooklyn-based artist AOMI KIKUCHI. Best known for her exquisite Yuzen silk kimono dyeing and work with other delicate fabrics, which have been exhibited in galleries and museums all over the world, KIKUCHI here depicts frogs on triple-layered silk organza in a variety of natural settings as well as among human-made objects.
To maintain the softness and 'unreliability' of the gauze, she refrains from sewing or tightly stretching it. The fragility and insubstantiality of the images echo the impermanence and insubstantiality of the physical world. The elements of nature, while ever changing, evoke a sense of peace which contrasts with the insatiable temptations evoked by the depicted consumer goods. Kikuchi's work invites us to meditate on this ephemerality and discover that its acceptance brings a sense of inner peace.
The exhibition will be on view from December 11, 2019 – February 4, 2020. The public is invited to meet the artist at the CRS Holiday Celebration on Saturday, December 14, 2019.
Medium: Triple-layered silk organza, Acid Dye, Pigment
Kikuchi dyed three layered pieces of silk organza simultaneously with acid dyes and pigments after drawing outlines with a gold color Sumi ink. She then steamed them to fix colors, pressed them, and separated them to be framed.
Method: Kikuchi's original method based on Japanese Yuzen Kimono Dye
Kikuchi uses special brushes made for Yuzen Kimono dye to make beautiful gradations. The size of the brush varies from 3mm to 15cm. She innovated Yuzen kimono dye techniques to establish her original method with layered fabrics and without rice glue lines as water resistance. Instead of glue resistance, she manipulates dye liquid to prevent it from spreading outside of her hand-drawn gold Sumi outline.
Her method makes it possible to dye larger and layered fabrics.