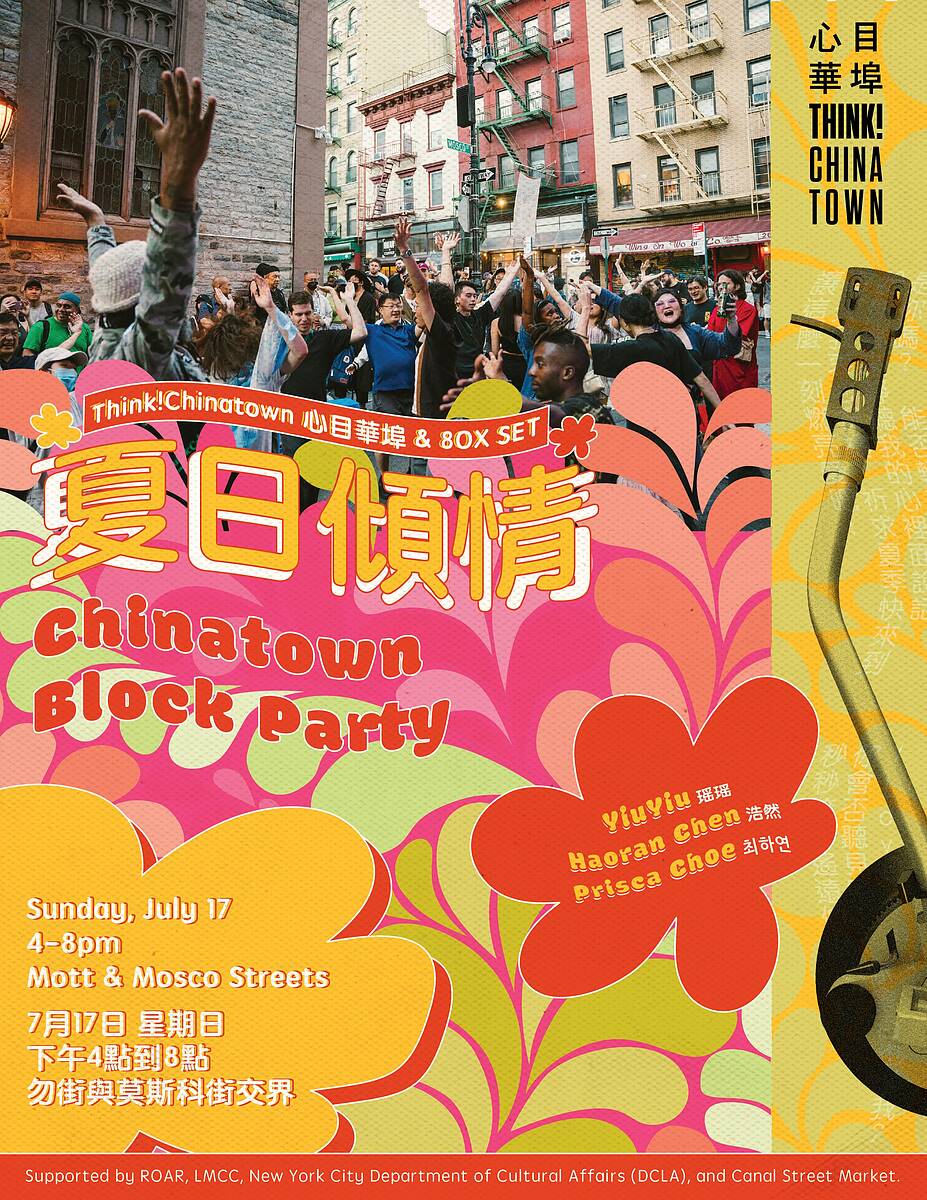 Community Event
Chinatown Block Party 夏日歡聚 w/ YiuYiu 瑶瑶, Haoran Chen 浩然, & Prisca Hayon Choe
Sunday, July 17, 2022
4 – 8PM
Join Think!Chinatown and 8OX SET for another Chinatown Block Party 夏日歡聚 at our beloved newsstand (aka the box) at Mott & Mosco Streets.
Pulling from family collections inherited from her neighbors, YiuYiu 瑶瑶 brings her special collection of Chinatown vinyls and CDs to get us grooving to Canto- and Mandopop from the 1940's-00's. Sharing the decks with her, Haoran Chen 浩然 brings his vast collection back home to Chinatown, where he spent his teenage years falling in love with 80s-00s Cantopop in neighborhood CD stores.
We'll light up the streets of Chinatown with Prisca Choe 최하연's stained-glass style acrylic installation, a playful family of depictions of women pulled from genre paintings from the Joseon Dynasty to uplift the influence of women on the way we celebrate our culture despite the historical erasure of their work and power.
This is a block party for the whole family! Meet you at the box!
Presented by Think!Chinatown. Produced by 8OX SET. Sponsored by ROAR, LMCC, New York City Department of Cultural Affairs (DCLA), with support from Canal Street Market.
YiuYiu 瑶瑶 (aka Rochelle Hoi-Yiu Kwan) is a cultural organizer, oral history educator, and DJ based on Lenape land in NYC's Manhattan Chinatown. Her work centers on engaging communities as our classroom and fostering intergenerational dance floors that celebrate art and history as powerful acts of resistance and resilience.
@rochellehkwan
Haoran Chen 浩然 began his journey in music as a collector and built his collection mainly with CDs, vinyl records and cassettes of Cantopop, Mandopop, and J-pop ranging from 1980s to 2000s. Haoran often looks for the electronic sound in these three genres which is often overlooked and curates a variety of dance tracks and remixes from these genres that are suitable for a dance party. During the search for ways to share the music and find the community for it, Haoran tapped into the world of DJing last year and started performing public sets since. Some of the artists and producers that influence him include Namie Amuro, Akina Nakamori, Sandy Lam, Dick Lee, Yu-Huan Lee, and Takkyu Ishino. On top of DJing, Haoran is a creative producer and art curator working in placemaking for public spaces.
@haoranchen_
Prisca Choe 최하연 is a production designer and visual artist based in NYC's Chinatown. Through acrylic art installations, film, and photography, her work centers community healing, explorations of identity, and storytelling in the Asian diaspora. She builds her practice around playfully developing rituals of reverence and belonging that ponder how rage and grief can be transformed into humor and play. She particularly enjoys exploring how cherished and inherited traditions can evolve to include identities beyond the ones considered in their development.
@priscachoe
Think!Chinatown is an intergenerational non-profit based in Manhattan's Chinatown, working at the intersection of storytelling, arts & neighborhood engagement.
@thinkchinatown
8OX SET is a creative collective of multidisciplinary artists based in NYC exploring the ideas of culture, legacy, and belonging across borders and generations. Converging from a variety of fields including events, film, journalism, photography, music, and beyond; Prisca Hayon Choe, Rochelle Hoi-Yiu Kwan, Cindy VyUyên Trinh, and Wynton Wing Tung Wong, nurture meaningful relationships and intimate moments as the building blocks for revolution. Our practice is born out of community events and will always be rooted in our care and love for our neighbors.
@8OXSET
Flyer by Haoran Chen. Photo by Cindy Trinh.