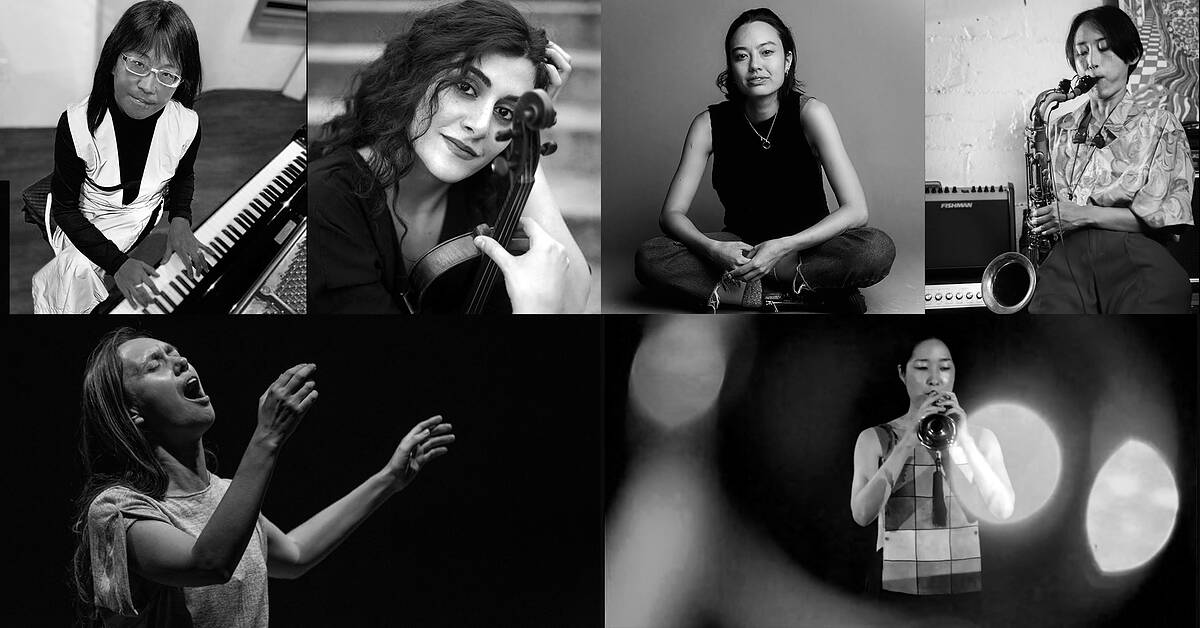 Concert
Crossing Boundaries Concert Series Vol. 18: Freedom
Saturday, July 16, 2022
7 – 8:30PM
CRS presents Crossing Boundaries Concert Series Vol. 18: FREEDOM on July 16, 2022 at 7 pm in Marc A. Scorca Hall at The National Opera Center — OPERA America. The program, in celebration of women, features free improvisation by six acclaimed female musicians of different backgrounds: Ayumi Ishito (saxophone), gamin (Korean winds), Gelsey Bell (vocals), Layale Chaker (violin), Lesley Mok (percussion), and Shoko Nagai (piano, accordion). Each artist will have the freedom to express her own voice as well as join with the others in solidarity in different combinations and as a sextet.
Curated by multi-Instrumentalist gamin, this fifth season of Crossing Boundaries consists of three concerts providing a platform and safe space for female and female-identifying musicians. Following the performance there will be a conversation with the audience about the concert and the theme of gender in the music industry.
Crossing Boundaries Vol. 16: FOCUSING ON HER, co-presented by Tenri Cultural Institute of NY, has been re-scheduled for Dec 10, 2022 at Tenri.
Tickets are $20 – $30 and are available online through eventbrite.com and at the door for cash only, if not sold out. All patrons must show proof of vaccination at the door in order to be admitted, no exceptions. In addition, masks must be worn throughout.
TICKETS
https://www.eventbrite.com/e/370702871267
LOCATION
OPERA America's National Opera Center is centrally located in Midtown Manhattan on the northwest corner of 29th Street and Seventh Avenue.
Enter on Seventh Avenue, and take the elevator to the seventh floor to check in at the front desk. The facility spans the seventh and eighth floors of the building, with an internal staircase providing access between them. There is no external entry to the eighth floor.
GETTING THERE
You can reach us using more than a dozen subway lines, including the 1 train (at 28th Street), 2/3/A/C/E trains (at Penn Station), B/D/F/M/N/Q/R/W trains (at 34th Street-Herald Square). You can also arrive by Amtrak or PATH service, as well as regional bus lines and airport shuttles.
ACCESSIBILITY
The Opera Center features ground-level entry with elevators to the venue. All spaces are wheelchair accessible, and modular seating can be arranged to accommodate wheelchair users for all programs and performances. Handicap-accessible restrooms are available on the seventh floor. For more information about accessibility, contact us at 212.796.8630 or Reservations@operaamerica.org.
"Shoko Nagai, one of New York's most individualistic and intense performers on the avant-garde side of jazz – dazzles with her glimmering, darkly necromantic and blues-tinged piano." — Time Out NY"
Gelsey Bell is "one of New York's most adventurous musicians…." — New York Times
"A Gorgeously Kinetic, Restless New Album by Haunting, Dynamic Violinist Layale Chaker…the leading contender for best album of 2019 so far." — New York Music Daily
"Gamin is one of the most celebrated piri, taepyeongso and saengwhang performers in Korea today." — Silkroad
"Ishito is among a cadre of musicians in New York incorporating everything they love about music into the jazz lexicon, imparting micro innovations that are not only adding fresh layers but attracting new audiences to jazz that wouldn't otherwise." — Jazz Views with CJ Shearn
"Lesley Mok stood out for her expansive curiosity, rigor in artistic practice, and embrace of different practices — not only making provocative and authentic connections, but also playing with and deepening our understanding of form and expression." — Elena Park, Asian American Arts Alliance Van Lier Fellowship panelist
ABOUT CROSSING BOUNDARIES CONCERT SERIES
CROSSING BOUNDARIES is a concert series devoted to dissolving boundaries between performers and audiences, the traditional and contemporary, classical and experimental, and the culturally specific and the global. Series curators are given the opportunity to create unique performance events in collaboration with musical, visual, and/or movement artists of their choosing.
Inaugurated in 2018, Crossing Boundaries is made possible in part with public funds from Creative Engagement, supported by the New York City Department of Cultural Affairs in partnership with the City Council and the New York State Council on the Arts with the support of Governor Andrew Cuomo and administered by LMCC. LMCC empowers artists by providing them with networks, resources, and support, to create vibrant, sustainable communities in Manhattan and beyond.