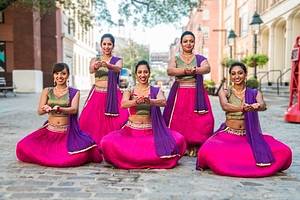 Celebrate India Day!
Saturday, August 15, 2015
10 – 5PM
All ages
August 15th, 2015 is India's Independence Day. Come learn about and celebrate this fascinating country and its many cultures at the Brooklyn Children's Museum. Have your hand painted with henna; try your luck at playingpachisi; make a Rahki bracelet to celebrate siblings and friends; hear Indian instruments like the sitar and tabla; sing songs in English, Bengali and Hindi with Raga Kids; then learn Bhangra dancing from Ajna Dance Company at a rooftop dance party featuring DJ Rekha.
See the website for a full description of the day's events.
Totally Tots Studio: Let's Celebrate India!11:30am & 2:30pm | Ages 2.5 to 5 years
Touch Tank: Indian Ocean12:00–12:30pm | All ages
Family Art Lab: Rakhi Bracelets12:30–1:00pm | Ages 4 and up
Performance: Raga Kids1:00–2:00pm | All ages
Nature Explorers: Insects of India1:30–2:00pm | Ages 4 and up
Ajna Dance: Cultural Connections Performance and Dance lesson 2:00–2:30pm | All ages
Bhangra Dance Party with DJ Rekha2:30–4:30pm | All ages
Charming Snakes4:15–4:45pm | Ages 4 and up
Organized by
a4 - Network Admin