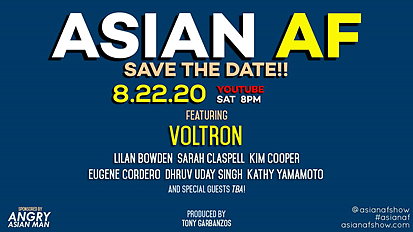 Comedy Show
Asian AF Online
Saturday, August 22, 2020
8 – 9:30PM
WATCH HERE: youtube.com/AsianAF
Asian AF is the hit variety show showcasing the best Asian American comedy performers in LA and NY. Formerly a monthly show at the Upright Citizens Brigade Theatre — along with four spinoff shows, Filipino AF, South Asian AF, Gaysian AF, and Voltron AND FRIENDS — Asian AF is now streaming LIVE! Each show will feature a rotating cast of improv's heavy-hitters and special guests.
Best of all, no more waitlists…catch the live show FREE!
FEATURING:
Special guests TBA!

Improv by VOLTRON!
[Lilan Bowden, Sarah Claspell, Kim Cooper, Eugene Cordero, Zac Oyama, Dhruv Uday Singh, and Kathy Yamamoto]

Hosted by Lilan Bowden & Sarah Claspell!
Produced by Tony Garbanzos!
Executive Produced by Will Choi!