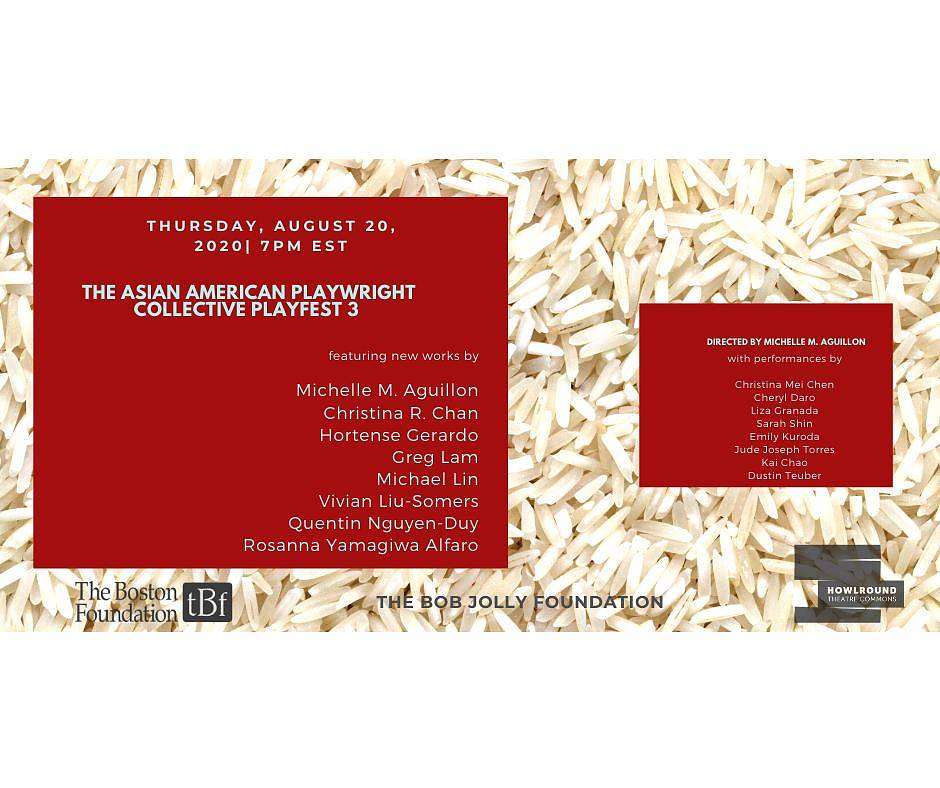 Fair or Festival
The AAPC PlayFestival of Food Plays
Thursday, August 20, 2020
8PM
The Asian American Playwright Collective is excited to present its PlayFestival of Food Plays on Thursday, August 20, 2020 at 7:00 pm EDT. The festival is made possible by funding from the Bob Jolly Trust and The Boston Foundation.
The PlayFestival highlights Boston-area Asian American and Asian Pacific Islander playwrights, actors, directors, and other theater artists. Since we cannot gather in Woods Hole for our annual play reading, we are taking the program online. Join us for original works by Boston-area playwrights on this fascinating new medium.
Whether characters are preparing food for family or friends, having heated conversations over a meal, learning about unusual ingredients, or trying to order their favorite foods at a local dim sum place, the plays all explore how we use food to navigate, nourish, and sometimes negate our relationships.
The plays will be followed by a Q&A with the playwrights and director, moderated by Susan Chinsen, Community Engagement Producer, ArtsEmerson & Artistic Director, Boston Asian American Film Festival (BAAFF).
This event is free, but requires registration. Click here to register:
https://us02web.zoom.us/webinar/register/WN_kzXW1U-vQnWk6pJuRanFbA
After registering, you will receive a confirmation email containing information about joining the webinar.
In lieu of an entrance fee, please consider making a donation to organizations that support #BLM and food security such as:
The Greater Boston Food Bank: https://www.gbfb.org/
Pine Street Inn: https://www.pinestreetinn.org/
NAACP Boston Branch: http://naacpboston.com/