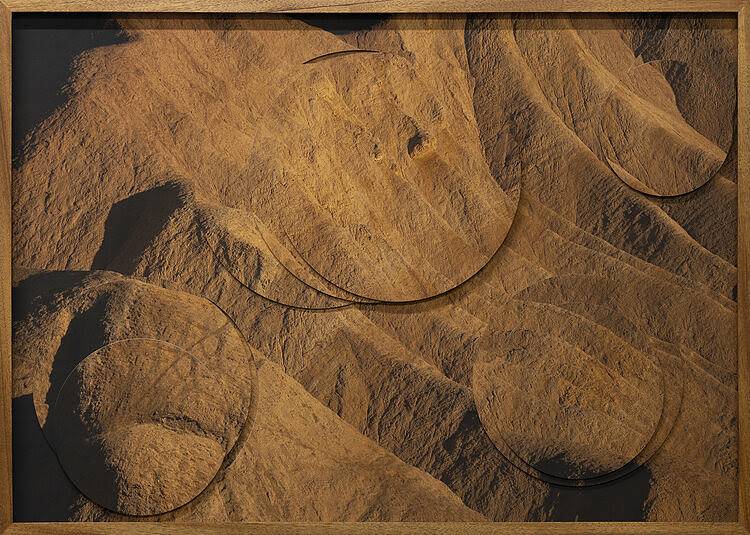 Panel Discussion/Talk
Artist Talk with Myeongsoo Kim and Michelle Yun
Tuesday, October 13, 2020
6 – 7PM
Join CUE Art Foundation for a conversation between artist Myeongsoo Kim and curator-mentor Michelle Yun in conjunction with Kim's solo exhibition, Mother-Land. Using photographs of stamps, postcards, and landscapes, Kim's sculptural collages reveal the ways that seemingly unrelated phenomena—and how they are represented in visual culture—are deeply entangled. Images sourced from personal experiences and geopolitical events are dismantled and reconstructed to explore how both landscapes and nationality are manufactured through considerations of the difference between an object and its image. Kim and Yun will be available for questions following the conversation.
Myeongsoo Kim studied architecture in his native Korea prior to coming to the United States in 2002 to pursue visual art. In 2009, he received a BFA with a concentration on sculpture, followed by an MFA from Yale University in 2011. At Yale, he deepened his investigation into the connection between a desire to revive and relive memories and the constantly changing nature of the materials which act as conduits for transference and recollection. Since 2011, he has been actively producing and showing work in Brooklyn, NY. Most recently, he participated in the 2019 BRIC Biennial at BRIC in Brooklyn, NY, and the Brave New World Photo Festival at the Seoul Museum of Art in Seoul, Korea.
Michelle Yun is Senior Curator of Asian Contemporary Art and Associate Director of the Asia Society Triennial at Asia Society Museum. She is responsible for overseeing the modern and contemporary exhibition program and the museum's permanent collection of contemporary art. Formerly, she has served as the Project Director of Cai Guo-Qiang's studio and as a Curatorial Assistant in the Department of Painting and Sculpture at The Museum of Modern Art, New York, in addition to organizing numerous independently curated exhibitions. Yun is a frequent lecturer on modern and contemporary Asian art and her writings have been included in many publications including No Limits: Zao Wou-Ki; Nam June Paik: Becoming Robot; and Treasures of Asian Art: The Asia Society Museum Collection, all of which she also co-edited. Yun earned her MA in Modern Art and Critical Studies from Columbia University and her BA from Mount Holyoke College. She is a graduate of the Getty Leadership Institute's Executive Education Program for Museum Leaders and sits on the advisory board of the Mount Holyoke College Art Museum.