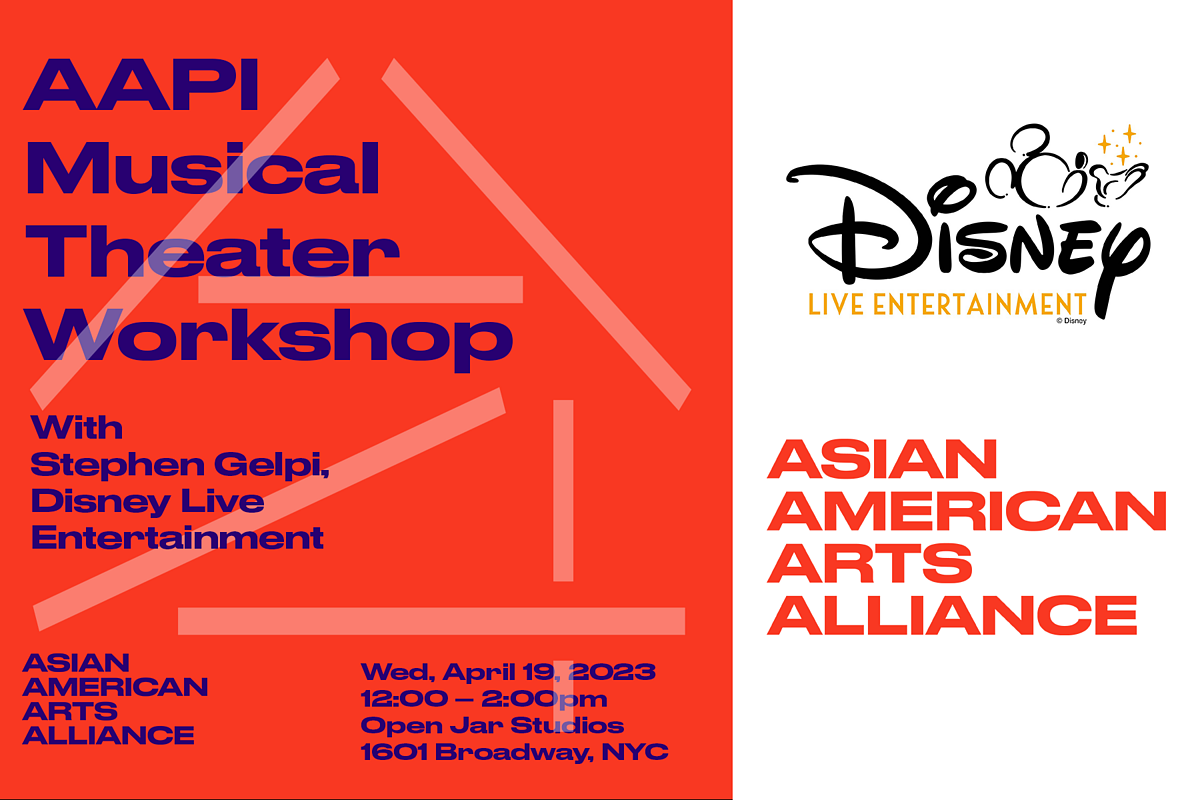 Workshop
AAPI Musical Theater Workshop
Wednesday, April 19, 2023
12 – 2PM
Asian American Arts Alliance (A4) is pleased to co-present an interactive, in-person workshop for AAPI actors and musical theater artists. The workshop will be led by Stephen Gelpi, a casting director from Disney Live Entertainment, who will cover auditioning for theme parks and cruise lines around the world and best practices to position yourself for success next time you walk into any audition room.
Pre-selected participants will have the opportunity to put up work, either a monologue or song, for the group. An accompanist will be available.
This event is FREE and RSVP is required to hold your space. You do not need to audition in order to join the workshop.
Refreshments will be served. At least two days before the event, registrants will receive an email with additional details including the room number where the workshop will take place.
Audition Portion:
If you would like to be considered for the audition portion of the workshop, please send your headshot and resume to jlee@aaartsalliance.org with subject line: "DLE Audition Workshop" by Wednesday, April 12 at 11:59 pm ET.
A4 will select and notify 6-8 participants by Friday, April 14. Those selected to present work to the group should prepare a 1–2-minute monologue/song that serves as a preferred audition piece along with headshots and resumes. An accompanist will be provided. Select material you have an organic connection to that tells a story, that you bring to life in an honest way.
About Stephen Gelpi
As Manager, Talent Casting Strategy & Initiatives, Stephen supports the processes and systems which maximize inclusive recruitment and retention efforts of world-class talent for a global team of Casting Directors. Stephen joined The Walt Disney Company in 2015 as a Talent Casting Director at the Disneyland Resort, supporting in-park entertainment offerings as well as resort-wide special events. In 2017 he transferred to Orlando to serve in the same capacity casting projects for the Walt Disney World Resort and Tokyo Disney Resort sites. Prior to his time with the company, Stephen was the Talent Operations Manager at SeaWorld San Diego where his primary responsibilities centered around the casting, training and daily operational support of the live entertainment team.
Though he has lived in nearly every corner of the country, Stephen is originally from Miami where he attended The University of Miami majoring in Music and Theatre.