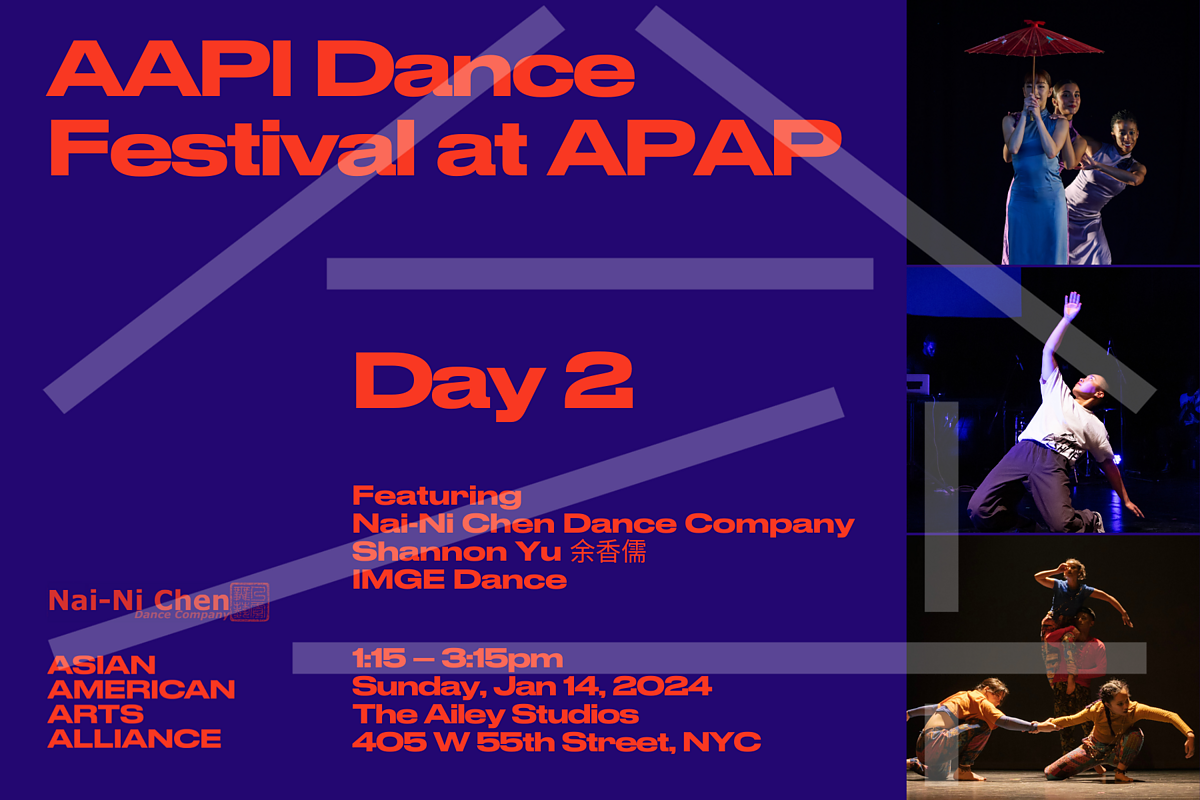 Performance
AAPI Dance Festival at APAP (Day 2)
Sunday, January 14, 2024
1:15 – 3:15PM
The Nai-Ni Chen Dance Company and Asian American Arts Alliance (A4) are pleased to present an evening of thrilling AAPI dance with performances from the Nai-Ni Chen Dance Company, Shannon Yu 余香儒/ SHA Creative Outlet (2023 Jadin Wong Fellow), and IMGE Dance.
Please note this is Day 2 of a two-day festival. Day 1 is on Saturday, Jan 13 from 3-5pm also at The Ailey Studios (link here).
The AAPI Dance Festival at APAP is a part of the Dance Managers Collective Showcase.
Tickets:
General Admission Tickets are $25. If you would like to attend both days, we encourage you to reserve a Two-Day Pass at the special price of $30. We hope you'll join us for both showcases!
Program:
1:15 pm – "Xs III" by Shannon Yu 余香儒/ SHA Creative Outlet
If you see every connection as a straight line, then the crossing of connections becomes X, and the multiplying of crossing connections leads to Xs. All the connections of sticky spider threads are pulling; straight, straight, queer queer queer, break. And reconnect.
Choreography: Shannon Yu 余香儒
Dancers: Shannon Yu 余香儒, Sarah Zucchero
Sound: Arabelle Luke aka AirLoom Beats
Lighting Design: Matt Morris
1:45 pm – "(no)man" by IMGE Dance
(no)man is a dance rollercoaster traveling through ideas of home and identity while juxtaposing cross cultural movement as a reflection of power & privilege. Weaving together their signature fusion movement, rhythmic footwork and world music, IMGE questions who is included and excluded in this borrowed space and time.
Choreography: Ishita Mili
Dancers: Lex Bolisay (She/Her), Hanna Gosztyla (She/They), Maddie Jacobs (She/Her), Liam Lynch (He/Him), Andrei Miasco (He/Him), Ishita Mili (She/They), Shivani Lamba (She/Her), Sangeetha Santhebennur (She/Her)
Music: Srijon on the Beat, Yemi Alade, Dengue Dengue Dengue, Ibeyi, Oliver Koletzki, RRobin, Les Mamans Du Congo
Stage Manager: Subha Samanta (She/Her)
2:15 pm – Nai-Ni Chen Dance Company
Song of the Phoenix; New works plus the most iconic dances by Nai-Ni Chen
Dancers: Candace Jarvis, Rio Kikuchi, YuChen Tseng, Ke'ala O'Conner, Sarah Botero, Esteban Santamaria Caleb Baker, Alexzandar Larson
BIOS
About IMGE Dance
IMGE is an American dance company that uses elements of bharatanatyam, hip hop, and Mayurbhanj chhau vocabularies to navigate social and cultural constructs along with artists of different perspectives. Founded by Ishita Mili, IMGE has worked across concert, commercial, and musical theater industries, and performed at New Victory Theater, Battery Dance Festival, Lincoln Center, Seattle International Dance Festival, Kala Ghoda Arts Festival, and most recently debuted their premiere evening length show, (no)man, at The Tank NYC in 4 sold out runs. Ishita most recently made her Broadway debut as associate choreographer on Broadway Bares: Pleasure Park, and was awarded Artist of Exceptional Merit by the Asian American Arts Alliance. IMGE has amassed a loyal global fan base with 21k+ Instagram followers and viral dance content across platforms. Learn more at imgedance.com.
About Shannon Yu 余香儒
Shannon Yu (余香儒) is a Brooklyn-based artist from Taiwan. Yu holds an MFA in Performance and Performance Studies from Pratt Institute and a Bachelor's Degree in Civil Engineering from National Taiwan University. Yu identifies as a multi-disciplinary artist, dancer-choreographer, and queer creator. Yu is the founder and Artistic Director of multimedia dance company SHA Creative Outlet. Yu has shown work at La MaMa, Movement Research in Judson Memorial Church, Dixon Place, Triskelion Arts, Abrons Art Center, The Landmark Loew's Theater, and has been awarded residencies with Dance in Bushwick, Spoke the Hub, Chen Dance Center, The Creators Collective, New Dance Alliance, and The Center at West Park. Shannon was a recipient of a City Artist Corps grant, and has been in festivals such as Performance Mix Festival, the Evolution Festival, YES! Dance Festival, Your Moves Dance Festival, and WOW Festival. Shannon is the 2023 Asian American Arts Alliance Jadin Wong Fellow. Learn more at shannonyu.smugmug.com.
About A4
The Asian American Arts Alliance (A4) is a nonprofit organization dedicated to ensuring greater representation, equity, and opportunities for Asian American artists and cultural organizations through resource sharing, promotion, and community building. Since 1983, A4 has sought to unify, promote, and represent the artistic and cultural producers of one of New York City's fastest-growing populations. We are a diverse alliance of artists, organizations, and arts supporters who believe that working together as a pan-ethnic, multidisciplinary community is essential to nurturing the development of artists and arts groups. A4 serves as a thoughtful convener of the Asian American cultural workforce around issues of race, identity, and artmaking and provides a critical voice for this community. We are the only service organization in the country dedicated to the professional development of Asian American and Pacific Islander artists in all disciplines. Learn more at aaartsalliance.org.
About Nai-Ni Chen Dance Company
The Nai-Ni Chen Dance Company is a rare Asian American woman led professional touring company with programs for educational settings, community organizations and main stage venues. The Company's mission is to be a premier provider of innovative cultural experiences that reflect the inspiring hope and energy of the immigrant's journey. It was founded with the vision that the immigrant's journey of crossing cultures and adapting to a new home provides endless inspirations and opportunities for creative expressions that can enrich the human experience. Each one of the company's work is aimed to increase the visibility of the struggle, triumph, despair, and joy of this experience. The Company's productions provide cross-cultural experiences and bring forth issues of identity, authenticity, and equality. The Company's worldwide touring is represented by Red Shell Management led by Edward Schoelwer. Learn more at nainichen.org.
Get Tickets
Tags
Organized by
Justine Lee
Contact
jlee@aaartsalliance.org