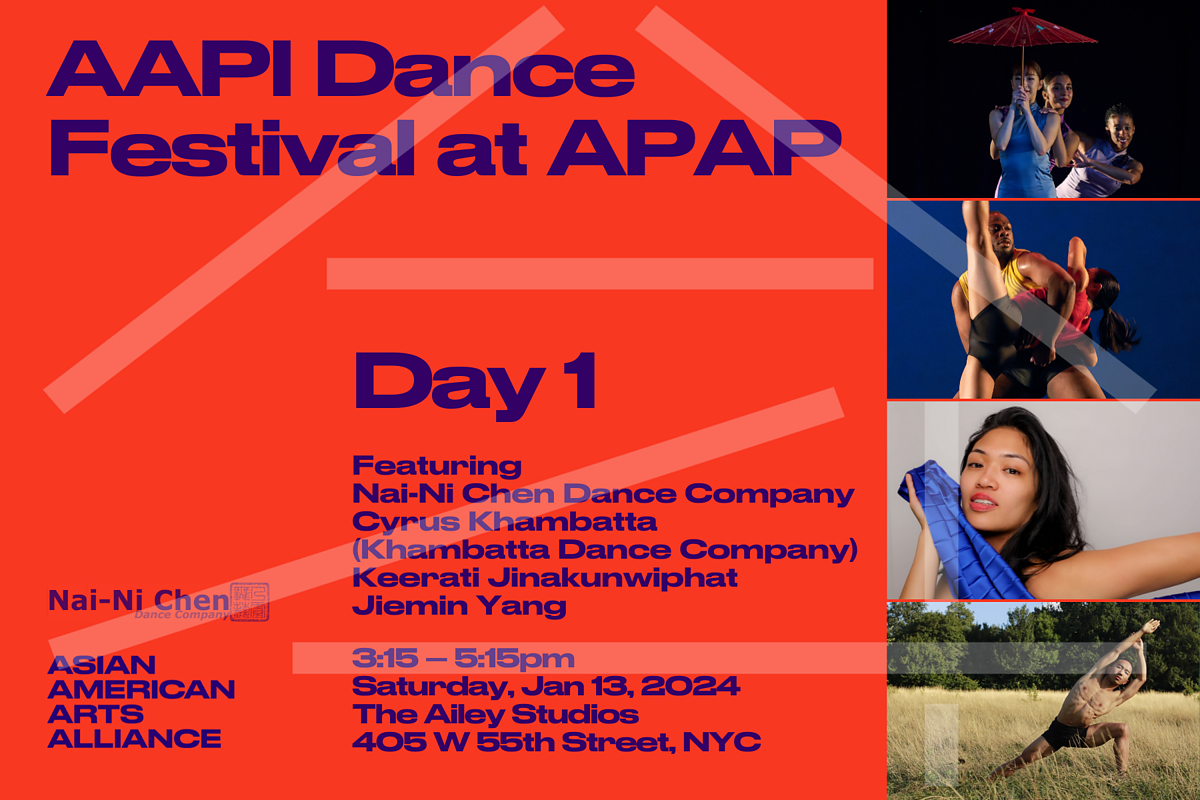 Performance
AAPI Dance Festival at APAP (Day 1)
Saturday, January 13, 2024
3:15 – 5:15PM
The Nai-Ni Chen Dance Company and Asian American Arts Alliance (A4) are pleased to present an evening of thrilling AAPI dance with performances from the Nai-Ni Chen Dance Company, Khambatta Dance Company, Keerati Jinakunwiphat, and Jiemin Yang.
Please note this is Day 1 of a two-day festival. Day 2 is on Sunday, Jan 14 from 3-5pm also at The Ailey Studios (link here).
The AAPI Dance Festival at APAP is a part of the Dance Managers Collective Showcase.
Tickets:
General Admission Tickets are $25. If you would like to attend both days, we encourage you to reserve a Two-Day Pass at the special price of $30. We hope you'll join us for both showcases!
Program:
3:15 pm – "Strange Animals" by Khambatta Dance Company
Like a road trip through a natural vista, Khambatta Dance Company's "Strange Animals," presents a playful landscape of quirky animal behaviors' reflecting on human parallels.
Choreography: Cyrus Khambatta
Dancers: Nathan Cook, Marte Osiris Madera, Kaitlyn Nguyen, Leah Russell, Mary Sigward and Emily Walters
Music: Subconscious, Takenobu – Reversing and Exposition
3:30 pm – "Good Island" by Keerati Jinakunwiphat
"Good Island" is a place where Lord of the Flies meets Where the Wild Things Are. Together, these powerful beings explore different degrees of rambunctiousness, sensitivity, competitiveness, and unity.
Choreography: Keerati Jinakunwiphat
Dancers: Jamaal Bowman, Quaba Ernest, Juan Carlos Franquiz II, Amari Frazier, Paul Giarratano, Leo Hishikawa, and Kevin Pajarillaga
Music: "Gangsta (Acapella)" by Tune-Yards, "Bad Things" by the Cults, and "I'm In It" by Kanye West arranged by Zach Berns
4:00 pm – "Here We Root" by Jiemin Yang
"Here We Root" is a contemporary dance inspired by Asian immigrants' stories, focusing on the Chinese diaspora in Queens, New York. It invites audiences to experience, reflect, and celebrate Asian immigrant identities and stories through movements, text, theatre, and original music.
Choreography: Jiemin Yang in collaboration with the dancers
Dancers: Kathy Chen, Shan Y. Chuang, Maya Lam, Angie Lu, Tsubasa Nishioka, Mayu Yamashita
Music: James Acampora, Darren Huang, Danting Qiao
Narrator: Chun Cho
Costume: Hao-Yun Emily Hsieh
Script: Jiemin Yang
Script Consultant: Dennis Yue Yeh Li
VO Sound Engineer: Niko Vaude/Vaudeville Music studios
Special thanks to all interviewees who participated in the research of this project.
This project is made possible (in part) by the Queens Council on the Arts with public funds from the New York City Department of Cultural Affairs in partnership with the City Council. Deep thanks to individual donors who supported the development of this project.
4:30 pm – Nai-Ni Chen Dance Company
Song of the Phoenix; New works plus the most iconic dances by Nai-Ni Chen
Dancers: Candace Jarvis, Rio Kikuchi, YuChen Tseng, Ke'ala O'Conner, Sarah Botero, Esteban Santamaria Caleb Baker, Alexzandar Larson
BIOS
About Jiemin Yang
Originally from China, Jiemin is a dance artist and choreographer based in Queens, New York. He holds a MA in contemporary dance from London Contemporary Dance School. He has been selected to the Redtail Artist Residency 2023. He was a recipient of the What Can We Do Micro Grant '23 from Asian American Arts Alliance. He has been a resident artist with CUNY Dance Initiative at Queens College from 2020-2022. He has been a recipient of the 2020 & 2022 QAF New Works Grant from Queens Council on the Arts (QCA). His dance film Wo/我 received Outstanding Dance Film Award from the Queens World Film Festival '22 and Best Short Narrative Award '22 at the DisOrient Asian American Film Festival of Oregon. He has been recognized as Artist of Exceptional Merit '22 by Asian American Arts Alliance. He has been part of the City Artist Corps '21 and one of the awardees of Artist Commissioning Program '21-22 by QCA. He has presented his works at 42nd Battery Dance Festival 2023, the Center, Museum of Chinese in America (MOCA), Flushing Town Hall, Queens Botanical Garden, MoMI, Los Angeles Asian Pacific Film Festival at Aratani Theatre, San Francisco Dance Film Festival '22, Solo Duo Dance Festival '20, KoDaFe dance festival '19 at the Ailey Citigroup Theatre, First Look '19 at The Mark O'Donnell Theatre, and Auditório do Parque da Devessa in Portugal. He was commissioned to create dance works for the Making Moves Dance Festival '19 hosted by Jamaica Performing Arts Center (JPAC) and Emerging Choreographer Series '17 hosted by Mare Nostrum Elements and LaGuardia Performing Arts Center. He is in the process of creating a new work to premiere in late 2024. Learn more at jieminyang.art.
About Keerati Jinakunwiphat
Keerati Jinakunwiphat, originally from Chicago, IL., received her BFA from the Conservatory of Dance at SUNY Purchase and was a recipient of the Adopt-A- Dancer Scholarship. She has additionally studied at the Western Australian Academy of Performing Arts, San Francisco Conservatory of Dance, and Springboard Danse Montreal. She has worked with and performed works of artists such as Kyle Abraham, Nicole von Arx, Trisha Brown, Jasmine Ellis, Hannah Garner, Shannon Gillen, Andrea Miller, Paul Singh, Kevin Wynn, and Doug Varone. Keerati began working with A.I.M. by Kyle Abraham in 2016. She has additionally assisted Kyle Abraham in new commissioned work for New York City Ballet and Paul Taylor Dance Company. As a freelance choreographer, Keerati has presented her own choreographic works at the American Dance Guild Festival, Battery Dance Festival, Dance Gallery Festival, the Joyce Theater, New Victory Theater, MASS MoCA, Lincoln Center, Works & Process at the Guggenheim and more. She has been commissioned to set and create works on the Evanston Dance Ensemble, the Martha Graham School, SUNY Purchase College Conservatory of Dance, A.I.M. by Kyle Abraham, Houston Contemporary Dance Company, New England Ballet Theatre, Ririe-Woodbury Dance Company, Bang On A Can, Princeton University, PARA.MAR Dance Theatre, Whim W'him Seattle Contemporary Dance, New York Choreographic Institute, and Rutgers University. Keerati has graced the cover as one of Dance Magazine's '25 to Watch' in 2021. In 2023, she had the honor of becoming the first Asian American woman to be commissioned to choreograph for the New York City Ballet. Additionally, Keerati has been awarded with the Jadin Wong Fellowship Artist of Exceptional Merit by the Asian American Arts Alliance and is a 2023 Princess Grace Award winner in choreography. Learn more at keeratijinakunwiphat.com.
About Khambatta Dance Company
Khambatta Dance Company's (KDC) mission is to connect artists and audiences through the exploration of contemporary issues, emotionally resonant performances, and a collaborative process of dance creation, reaching out to the community in an inclusive manner. Through its signature program, the Seattle International Dance Festival (SIDF), the Company seeks to unify communities annually showcasing the work of over 150 local, regional and international dance artists and over 40 dance groups who exemplify the diversity of contemporary dance practices and the richness of human experience. Learn more at khambattadance.org.
About A4
The Asian American Arts Alliance (A4) is a nonprofit organization dedicated to ensuring greater representation, equity, and opportunities for Asian American artists and cultural organizations through resource sharing, promotion, and community building. Since 1983, A4 has sought to unify, promote, and represent the artistic and cultural producers of one of New York City's fastest-growing populations. We are a diverse alliance of artists, organizations, and arts supporters who believe that working together as a pan-ethnic, multidisciplinary community is essential to nurturing the development of artists and arts groups. A4 serves as a thoughtful convener of the Asian American cultural workforce around issues of race, identity, and artmaking and provides a critical voice for this community. We are the only service organization in the country dedicated to the professional development of Asian American and Pacific Islander artists in all disciplines. Learn more at aaartsalliance.org.
About Nai-Ni Chen Dance Company
The Nai-Ni Chen Dance Company is a rare Asian American woman led professional touring company with programs for educational settings, community organizations and main stage venues. The Company's mission is to be a premier provider of innovative cultural experiences that reflect the inspiring hope and energy of the immigrant's journey. It was founded with the vision that the immigrant's journey of crossing cultures and adapting to a new home provides endless inspirations and opportunities for creative expressions that can enrich the human experience. Each one of the company's work is aimed to increase the visibility of the struggle, triumph, despair, and joy of this experience. The Company's productions provide cross-cultural experiences and bring forth issues of identity, authenticity, and equality. The Company's worldwide touring is represented by Red Shell Management led by Edward Schoelwer. Learn more at nainichen.org.
Get Tickets
Tags
Organized by
Justine Lee
Contact
jlee@aaartsalliance.org