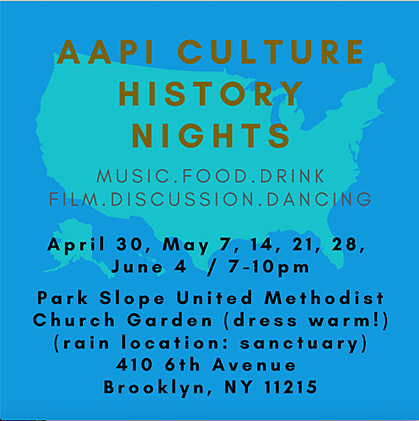 Community Event
AAPI Culture History Nights
May 14 – June 4, 2022
7 – 10PM
Saturday nights, May 14, 21, 28, June 4, at 7-10pm EST
Learn AAPI history
Discuss race relations
Share your experiences
Discover musicians, movies
Eat, drink, and dance!
7:00 Potluck food/drink/music
8:00 Film Asian Americans PBS Docuseries (2020)
9:15 Discussion
10:00 Party
May is AAPI Heritage Month!
Time to school ourselves on AAPI history through discussion and film, and celebrate with food, music, drinking, and dancing in the lovely candlelit garden of Park Slope UMC
We'll learn by watching the PBS docuseries "Asian Americans." We'll celebrate with food, drinks, discussion, and dancing!
Bring food, drink, and blankets to share.
Register: https://app.onechurchsoftware.com/psumc/events/2258
Volunteer: https://docs.google.com/spreadsheets/d/1roTYMlVGfW7EUt8j8jTon8tiI_qMbGqo1N9BXrjLiK4/edit?usp=sharing
Potluck:
https://docs.google.com/spreadsheets/d/1-mpvjrM9QSrEPeaaIKrYeagjCmCOWLt9vZiUxxelg-M/edit?usp=sharing