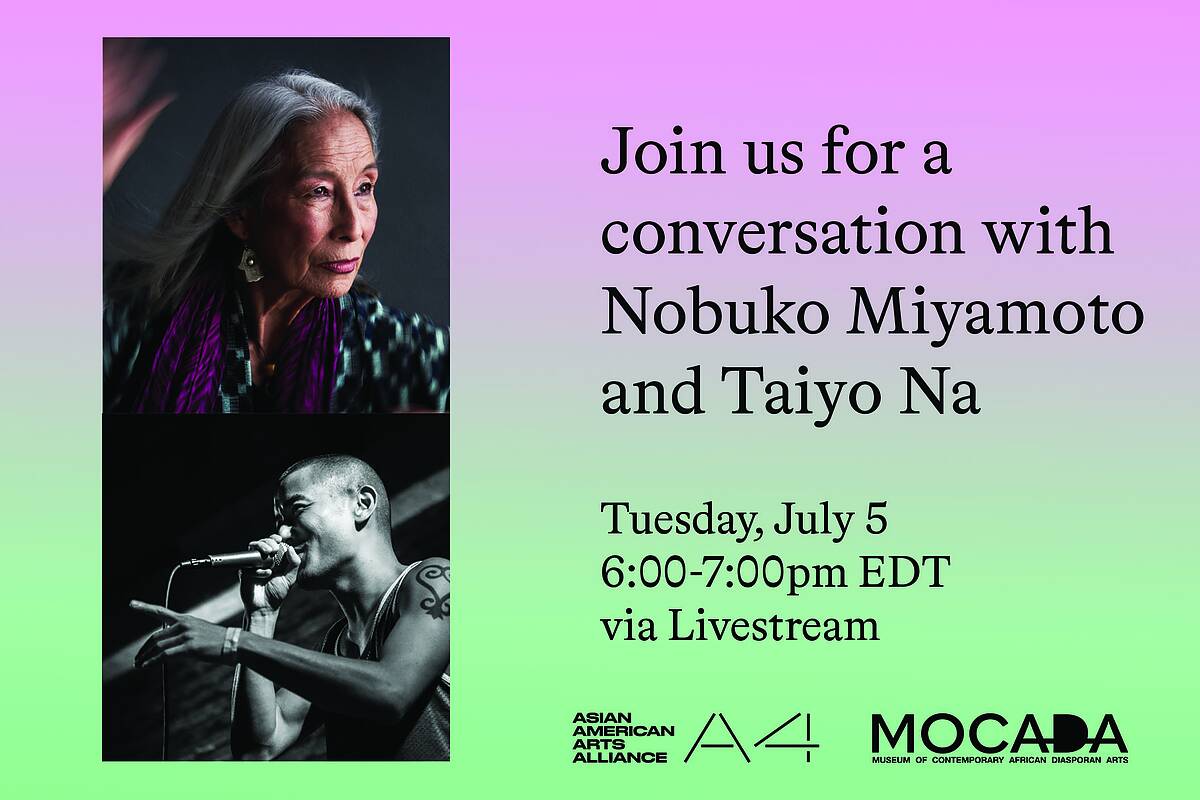 Panel Discussion/Talk
A Conversation with Nobuko Miyamoto and Taiyo Na
Tuesday, July 5, 2022
6 – 7PM
As part of the Bandung 2022 Residency, A4 and MoCADA will present a discussion with seasoned musicians and activists Nobuko Miyamoto and Taiyo Na. They'll present clips of their work and share their philosophies around activism, experiences bridging cultural, social, and religious divides, and uplifting communities of color through the arts.
About Nobuko Miyamoto
Nobuko Miyamoto is a songwriter, dance and theater artist, and Artistic Director of Great Leap, a Los Angeles-based arts organization she founded in 1978. A child of Japanese American relocation during WWII, early training led her to dance in Broadway's Flower Drum Song and the film West Side Story. But she found her own voice as an activist and troubadour in the Asian American movement, co-creating with Chris Iijima and Charlie Chin the seminal album, A Grain of Sand (Paredon Records, 1973). Their music became the soundtrack of their movement and built bridges with Black and Latinx movements. In 1978 she founded Great Leap, to put the Asian American story on stage with original musicals and concerts. The racial divisions of '92 LA Uprising, prompted Great Leap to become multi-ethnic, collaborating with Asian, Latinx, and Black artists. Post 9/11, Nobuko used art to deepen relations between Muslims and other faith communities. Nobuko creates songs for the Japanese Buddhist tradition, danced by thousands in yearly obon festivals. Her EcoVid music videos bring People of Color into the environmental conversation. Nobuko now co-produces FandangObon, an Eco-Arts Festival that builds cross-cultural solidarity using participatory music and dance from Latinx, Asian, African, and Muslim traditions. She chronicles her journey as an artivist in her 2021 memoir, Not Yo' Butterfly: My Long Song of Relocation, Race, Love and Revolution (University of California Press) and her album 120,000 Stories (Smithsonian Folkways). More about Nobuko: www.nobukomiyamoto.org  
About Taiyo Na
Taiyo Na (Taiyo Ebato) is a writer, educator and musician living on unceded Lenape/Canarsie land (Queens, NY). His work spans over two decades of cultural and pedagogical contributions to urban communities. He was honored in 2010 by Governor David A. Paterson and the State of New York for his "legacy of leadership to the Asian American community and the Empire State." The short film/music video to his 2008 song "Lovely To Me (Immigrant Mother)" was heralded by MTV Iggy as "the realest thing seen in a while." The 2010/2011 collaboration album Home:Word under the outfit Magnetic North & Taiyo Na (MNTN) included a number of chart-topping songs in Asia, and his "Artist Takeovers" playlist was featured on Spotify in 2017. In May 2021, they released the song and video "We Belong '21," an anthem in response to the increase of anti-Asian violence throughout the country. His writing has appeared in Poets House, Hyphen, and Unmargin, and he is a 2020 VONA Voices Alum for writing fiction. As an educator, his areas of practice include transformative justice, culturally responsive pedagogy and coaching basketball. Follow Taiyo on Instagram, Twitter, and YouTube.