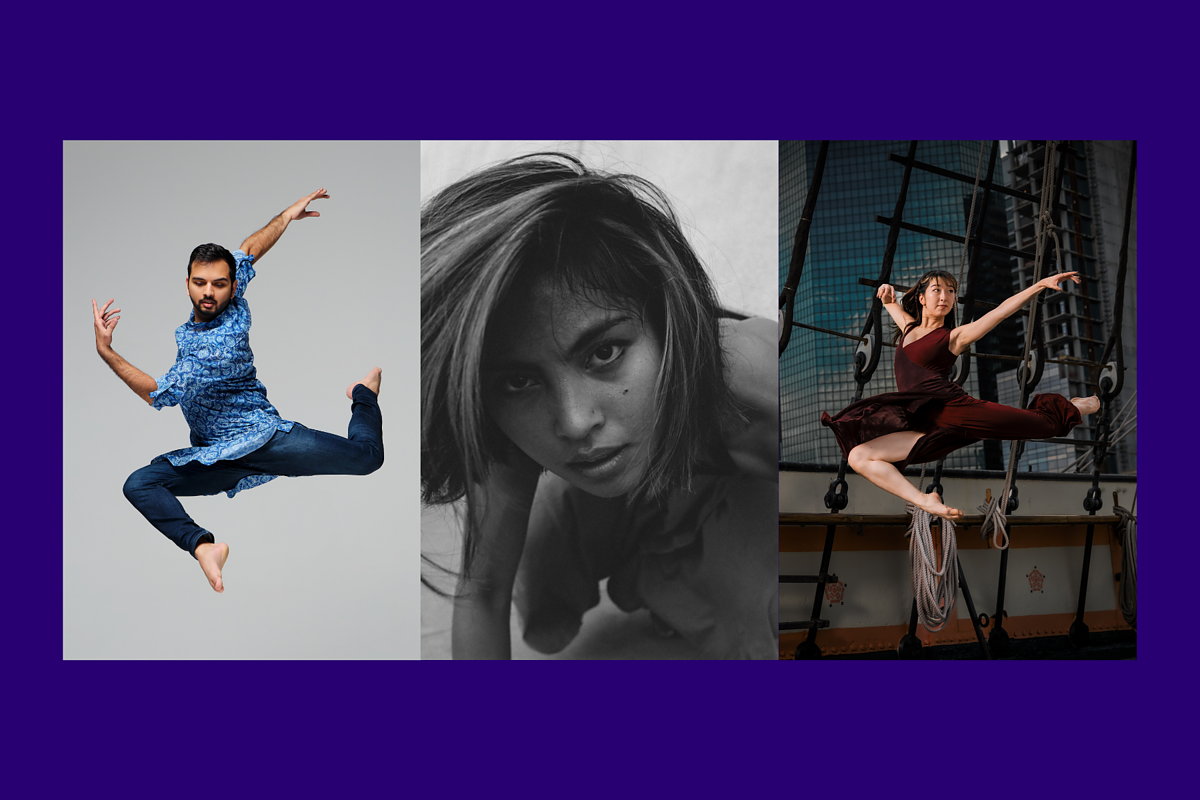 Performance
AAPI Dance Festival at APAP
Sunday, January 15, 2023
7 – 9PM
The Nai-Ni Chen Dance Company and Asian American Arts Alliance (A4) are pleased to present an evening of beautiful, diverse, and vibrant AAPI dance with performances from the Nai-Ni Chen Dance Company, Marie Lloyd Paspe and Almasphere, and Rohan Bhargava/Rovaco Dance Company.
Marie Lloyd Paspe is the 2022 Asian American Arts Alliance Jadin Wong Fellow and her performance, bumalik, will be the culmination of her fellowship project. Rohan Bhargava was the 2020 Asian American Arts Alliance Jadin Wong Fellow and Rovaco Dance Company, of which he is artistic director, will be performing two works that he choreographed, Sex Robot and The Devil's Advocate. See below for more details.
Please note this is Day 2 of a two-day festival. Day 1 is on Saturday, Jan 14 at City Center Studio 4 (more info here). If you would like to attend BOTH DAYS, we encourage you to reserve a 2-Day Pass at the special price of $30. We hope you'll join us for both showcases!
Program:
7:00 pm – bumalik (Tagalog for "return"), a collaboration between Marie Lloyd Paspe (Director/Choreographer) and Almasphere (Installation Art).
Almasphere: Sabrina Herbosa Reyes, Antonio Giovanni Rivera
Dancers: Ching-I Chang, Paulina Meneses, Marie Lloyd Paspe
Musicians: treya lam, Sugar Vendil
bumalik is a dance installation-in-process re-rooting the Filipinx body amongst the emotional, psychological, and socioeconomic challenges the diaspora faces as displaced children of mother service laborers and migrants. Set within a bamboo forest that, in moments, becomes a nipa hut, a seashell, a cage – the performers activate the memory between the body, the sexualized, the natural, the built. Their stories replace their erasure. Their environment becomes their home.
7:30 pm – Rovaco Dance Company presents three works by Artistic Director Rohan Bhargava: Aaiye (Welcome) Featured Excerpts, Sex Robot (Excerpt), and The Devil's Advocate.
Aaiye (Welcome) Video Presentation
Choreography: Rohan Bhargava in collaboration with dancers
Dancers: Rohan Bhargava and Siddharth Dutta
Music: Edited by Saúl Guanipa
Videography: Melissa Wu / 828 Media
Aaiye (Welcome) satirizes South Asian hospitality by blending contemporary dance with Nukkad Natak, a style of Indian street theater. Narrated in Hinglish, a blend of slang Hindi and British English, this piece unearths stories of contemporary South Asian life through dance, Bollywood aesthetics, Indian sitcom-style drama, and cultural norms. This piece was commissioned by JCAL's Making Moves Dance Festival 2020 with additional support from Dancewave and Asian American Arts Alliance (A4). The video presentation for APAP features selected excerpts from the work.
Sex Robot (Short Excerpt, Part of KAMA)
Choreography: Rohan Bhargava in collaboration with dancers
Dancers: Devika Chandnani and Karma Chuki
Music: Original track Conquest by Saúl Guanipa
Costumes: Barry Doss
Sex Robot, a stand-alone excerpt from Rovaco's evening length work KAMA, physicalizes libido through charged, precise, and mechanical movement. Alluding to both the physical nature of sex as well as an addiction to it, it presents a no-strings attached notion of sexuality. The full-length piece was commissioned by a CUNY Dance Initiative Residency at LaGuardia Performing Arts Center, 2017-19. This version for APAP is a short excerpt featuring two dancers.
The Devil's Advocate
Choreography: Rohan Bhargava in collaboration with Nico Gonzales
Dancer: Nico Gonzales
Music: Sinnerman by Nina Simone
The Devil's Advocate presents a businessman battling inner demons and addictions fueled by greed, power, and ambition. Consumed by society's relentless rat-race, he gradually transforms from man to beast, in this character study on insatiable desire, loss of control, and queerness. This work was originally commissioned by Mare Nostrum Elements' Emerging Choreographer Series #3.
8:00 pm – Nai-Ni Chen Dance Company
The Way of Fire
Choreography: Nai-Ni Chen
Dancers: Candace Jarvis, Evan Stewart,Rio Kikuchi, Namhui Kim, Esteban Santamaria
Music: Tan Dun
Lighting Design: Susan Summers
Costume: Nai-Ni Chen
Based on the ancient Chinese theory that the ever-changing phenomena of nature comes from cycles of creation and destruction of the Five Elemental Powers. The Five Elements are: wood, water, fire, metal, and earth. Each element, as part of the forces of nature, creates another in harmony and destroys another in conflict. This exploration is a focus on the element of "Fire".
Incense (excerpt)
Choreography: Nai-Ni Chen
Music: Joan La Barbara
Costumes: Karen Young
Lighting Design: A.C. Hickox
Dancers: Candace Jarvis, Rio Kikuchi, Esteban Santamaria, Evan Stewart
This dance was originally inspired by the sculpture titled Nine Muses by Carlos Dorian installed at Grounds for Sculpture in Hamilton, New Jersey. The choreographer also draws ideas from the offering of incense in the long corridors of an ancient temple from her childhood. The rising white clouds of the incense is said to bring the believer's prayer from their hearts to God's ears. The music reminds her of the mystical elements of nature and the more abstract, formal elements that gives structure to our faith and thus our lives.
Movable Figures
Choreography: Nai-Ni Chen
Music: Klangagglomeration by Anestis Logothitis
Costume: Angel Tsai
Dancers: Greta Campo, Sarah Botero, Evan Matthew Stewart, Thibaut Wizled, , Kyle H. Martin, Namhui Kim.
Inspired by the art of shadow puppetry, Nai-Ni Chen created this work not only to celebrate this unique form of art, but also to bring the audience to the new world of wonderment that she experienced when she first met the shadow puppets. Movable Figures is also an experiment on expression within the body shapes and motion. Nai-Ni Chen wishes to bring the two dimensional art alive on a three dimensional stage.
Crosscurrent
Choreography: Nai-Ni Chen
Music: David Lang
Performer: Rio Kikuchi and Esteban Sntamaria
Crosscurrent, a duet in which the physical tension between the dancers reflects the meeting of two cultures. Like two rapid streams flow together, there is tension, but also sparkles and splashes, creating passion and strength of this dialogue. This tension abates as rival currents begin to mingle, and a new vision emerges from harmony and love.
Mirage (Excerpt)
Choreography: Nai-Ni Chen
Composer: Glen Velez
Musicians: Lori Cotler (Voice), Shane Shanahan (Percussion),
Mark Katsounis (Percussion), Glen Velez (Frame Drums)
Dancers: Greta Campo, Candance Jarvis, Rio Kikuchi, Namhui Kim, Evan Matthew Stewart, Esteban Santamaria, Kyle H. Martin.
Lighting Design: Carolyn Wong
Costumes: Jon Can Coskunses
Inspired by the unique rhythms and dance movement of the Uyghur people of
Xinjiang, Ms. Chen created a new movement vocabulary for this dance. Its tranquility and passion evoke the images of the desert area and the people who lived in oasis towns. The music for this dance was commissioned by the American Music Center which has been renamed New Music/USA.
BIOS
About Marie Lloyd Paspe
Marie Lloyd Paspe (she/her) is a Filipina-American dance and vocal performer, installation choreographer, movement director, dance educator, femme bruha culture bearer, fascial pilates instructor, and writer based in lenapehoking/Brooklyn, NY. Marie is a performer with the Bill T. Jones/Arnie Zane Company since 2018, Bessie-awarded for Outstanding Choreography for contributions to BTJ/AZ production of "Deep Blue Sea", and is the 2022 Asian American Arts Alliance Jadin Wong Fellow.
Of Filipina descent of Batangas and Iloilo, Philippines, she was born in Singapore, grew up in Mississauga, Canada, migrated to Bellingham, MA in 2000, and received U.S. Citizenship in June 2019. She excavates Filipinx-American diasporic identity work within bakla queerist spaces of memory, fascia, and time, igniting kapwa (shared one-ness) in communities, collaborative processes, and productions. Her work to re-root the small, brown body through performance exists within–yet juxtaposes–the eurocentric, the patrionormative, and the white-dominated space.
Marie's choreography and performance has been presented internationally in Germany, Israel, the Philippines, and China; and nationally in NYC, North Adams, MA, LA, Jersey City, and Minneapolis, among others. She has been artist-in-residence at TOPAZ Arts, a co-conspirator of treya lam's residency at MASS MoCA as movement director, a Queens Council of the Arts grantee, and a recipient of the Creatives Rebuild New York grant as a performing artist and culture bearer. Learn more at marielloydpaspe.com.
About Almasphere
A collaboration between architects Sabrina Herbosa Reyes (she/her) and Antonio Giovanni Rivera (he/him), Almasphere creates atmospheres through large-scale sculptures and installations, where individuals are inspired to commune with their inner worlds, collectively with their community, and spiritually with the cosmos. Sabrina pulls from her memories of the Philippines as a Filipina-American to create relationships between environments and bodies. Giovanni, the son of a Puerto Rican, ignites architectural experiences as modes of universal language. This cross-cultural collaboration encourages the constant exploration of how to build spaces that evoke intuition, curiosity, and process. Their work has been shown in Feria Material (Mexico City), General Expenses (Mexico City), Little Manila Queens and Prospect Park (Brooklyn), among others.
About Rohan Bhargava
Born and raised in New Delhi, India, Rohan Bhargava began dancing at The Danceworx Academy for the Performing Arts, where he went on to serve as a performer, choreographer, and educator. In 2012 he relocated to New York to study dance at Tisch School of the Arts, NYU.
Bhargava founded Rovaco Dance Company in 2015 and has received commissions from The Dance Gallery Festival, Sam Houston State University, Mare Nostrum Elements, Dancewave, Making Moves Dance Festival, and Rhythmically Speaking Dance. In 2019, he completed a two-year residency through the CUNY Dance Initiative at LaGuardia Performing Arts Center, and he was awarded the 2020 Jadin Wong Fellowship in Dance, through the Asian American Arts Alliance. In 2021, Rovaco Dance Company received city funding from Brooklyn Arts Council, was presented by Little Island and Battery Dance Festival, and named one of Dance Magazine's "25 to Watch."
Rovaco is a recipient of the Dance Advancement Fund 2022-23 awarded by Dance/NYC, and Bhargava currently works for Kizuna Dance, Periapsis Music and Dance, Notes in Motion Outreach Dance Theater, and Mare Nostrum Elements. Learn more at rovacodance.com.
About Nai-Ni Chen Dance Company
The Nai-Ni Chen Dance Company is a rare Asian American woman led professional touring company with programs for educational settings, community organizations and main stage venues. The Company's mission is to be a premier provider of innovative cultural experiences that reflect the inspiring hope and energy of the immigrant's journey. It was founded with the vision that the immigrant's journey of crossing cultures and adapting to a new home provides endless inspirations and opportunities for creative expressions that can enrich the human experience. Each one of the company's work is aimed to increase the visibility of the struggle, triumph, despair, and joy of this experience. The Company's productions provide cross-cultural experiences and bring forth issues of identity, authenticity, and equality. The Company's worldwide touring is represented by Red Shell Management led by Edward Schoelwer. Learn more at nainichen.org.
Very Special Thanks
Programs of the Nai-Ni Chen Dance Company have been made possible by the National Endowment for the Arts, the New Jersey State Council on the Arts/ Department of State, a Partner Agency of the National Endowment for the Arts, the New Jersey Cultural Trust, the New York State Council on the Arts with the support of and the New York State Legislature, the Geraldine R. Dodge Foundation, DanceNYC Dance Advancement Fund, the Hyde and Watson Foundation, E.J. Grassman Trust, The Horizon Foundation for New Jersey, New Music USA, the Blanche and Irving Laurie Foundation, American Dance Abroad, the Association of Performing Arts Presenters' Cultural Exchange Fund, supported by the Andrew W. Mellon Foundation, PSEG, Proskauer, WAC Lighting and the Glow Foundation. WQXR is a media partner of the Nai-Ni Chen Dance Company. WQXR is a media partner of the Nai-Ni Chen Dance Company.
About A4
The Asian American Arts Alliance (A4) is a nonprofit organization dedicated to ensuring greater representation, equity, and opportunities for Asian American artists and cultural organizations through resource sharing, promotion, and community building. Since 1983, A4 has sought to unify, promote, and represent the artistic and cultural producers of one of New York City's fastest-growing populations. We are a diverse alliance of artists, organizations, and arts supporters who believe that working together as a pan-ethnic, multidisciplinary community is essential to nurturing the development of artists and arts groups. A4 serves as a thoughtful convener of the Asian American cultural workforce around issues of race, identity, and artmaking and provides a critical voice for this community. We are the only service organization in the country dedicated to the professional development of Asian American and Pacific Islander artists in all disciplines. Learn more at aaartsalliance.org.