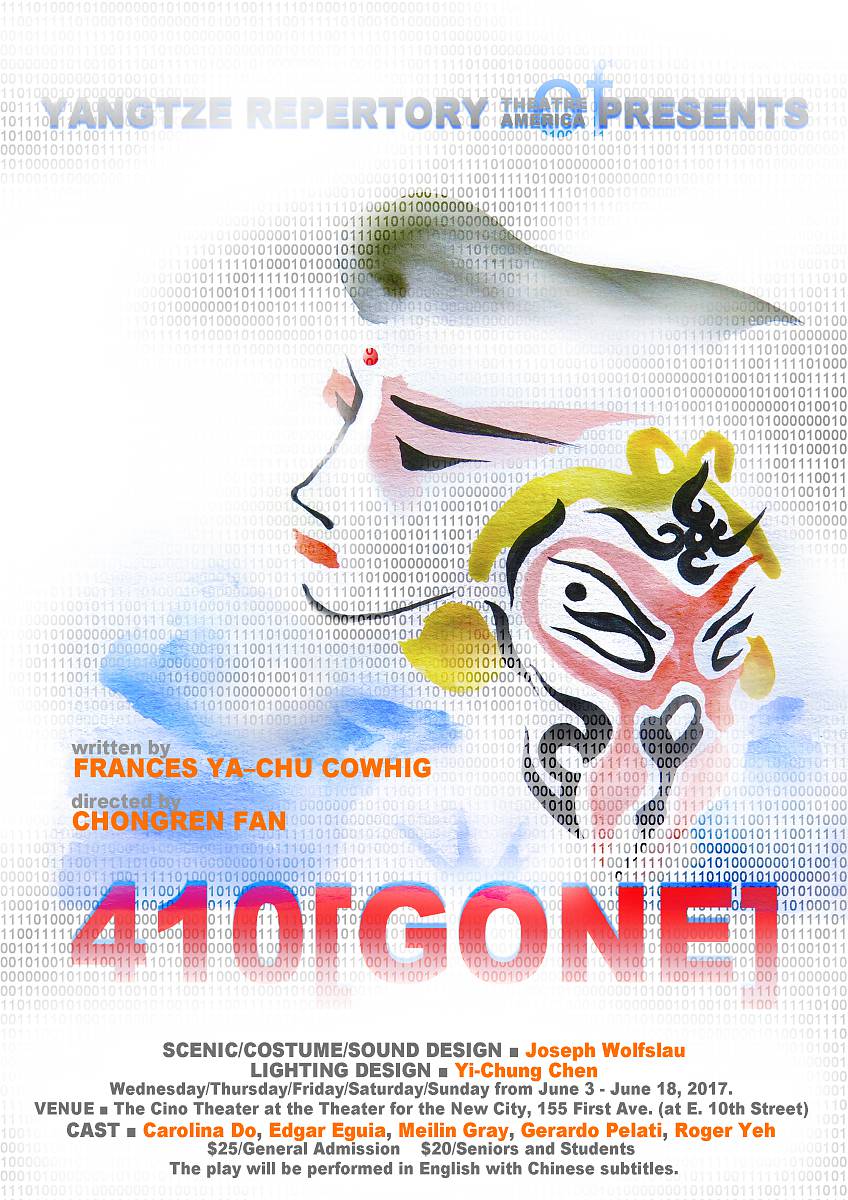 410[Gone]
June 3 – June 18, 2017
7:30 – 4PM
Yangtze Repertory Theatre of America returns to Theater for the New City (TNC) June 2 to 18 to present the New York premiere of "410[GONE]" by Frances Ya-Chu Cowhig, the prize-winning author of "The World of Extreme Happiness" (Manhattan Theater Club, 2015).
The dark and dazzling play uses comedy, Chinese mythology and cyber-imagery to explore how we release loved ones when they are gone. The play will be acted in English with Chinese subtitles. Chongren Fan directs; he staged Yangtze's critically-applauded production of "Behind the Mask – a Play" by Chinese authors Feng BaiMing and Huang WeiRuo at TNC in 2015.
The actors are Carolina Do, Edgar Eguia, Meilin Gray, Gerardo Pelati and Roger Yeh. Scenic, costume and sound design are by Joseph Wolfslau. Lighting design is by Yi-Chung Chen.Stage Manage by Bonnie McHeffey.
The play combines references to Chinese mythology and Chinese Opera with a wide variety of pop culture references, including the Dance Dance Revolution arcade game and pachinko arcades. The title, "410[GONE]," refers to the http 410 status error code, "Gone," which indicates that the requested resource has been intentionally removed and will not be available again. We're offered a multicultural take on the tale of Orpheus and Eurydice, with death portrayed as something of a video game. Seventeen is moving through a digitally-enanced version of the traditional Chinese underworld, encountering the Goddess of Mercy and the Monkey God, who struggle to process the impact this intruder has in their ordered world. Meanwhile, his sister is searching for a meaningful solution to the mystery of his death. After a series of hilarious events between the lands of the living and the dead, Twenty-One finally meets Seventeen again only to realize she has to set him free.
Wed - Sat at 7:30 and Sundays at 2:00 PM. $25 general admission; $20 seniors & students; Wednesdays pay what you can. Box office (212) 868-4444, www.yangtze-rep-theatre.org
Tags
Organized by
Wayne Chang
Contact
YangtzeRSVP@gmail.com