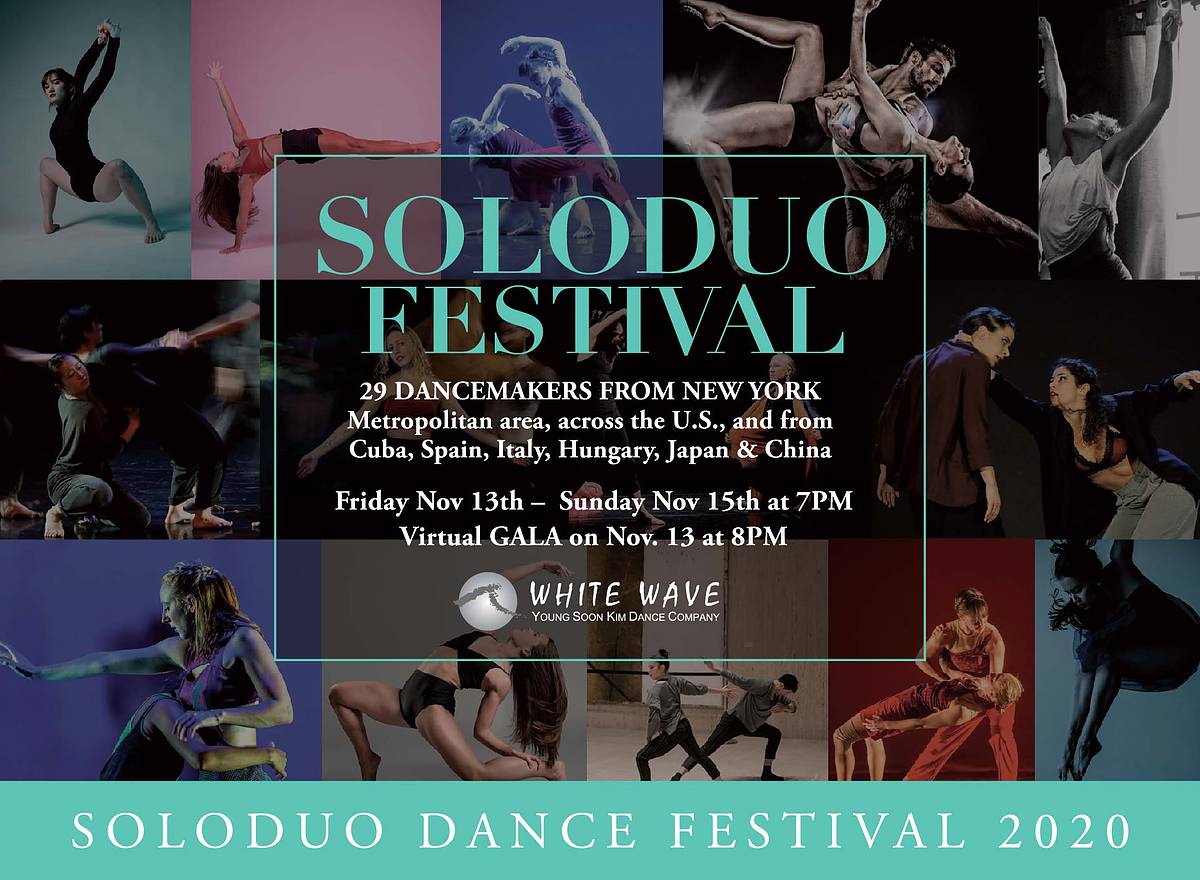 Performance
2020 SoloDuo VIRTUAL dance Festival
October 22 – November 15, 2020
12AM
2020 SoloDuo VIRTUAL dance Festival
Friday Nov 13th – Sunday Nov 15th, 2020
29 dancemakers from New York Metropolitan area, across the U.S.,and from Cuba, Spain, Italy, Hungary & Japan!
WHITE WAVE presents our 5th Annual SoloDuo Virtual Dance Festival, featuring 29 national and international dancemakers, selected by a panel of distinguished presenters and dance artists in NYC.
Our line-up this year includes the work of both nascent and seasoned artists. Our program celebrates the unique art of creating Solos and Duets, a format often favored by early-stage choreographers as their company begins to find its path within the Dance
Program 1: Friday, Nov. 13th at 7PM
Christina Tribo, MEAGmove, Li Chiao-Ping Dance, CocoJoeProductions, Company | E, Amos Pinhasi, Cattywampus Dance, Lua Mayenco & Matilda Mackey, Hayley Midea,TalCual Dance Projects.
Program 2: Saturday, Nov. 14th at 7PM
Stacey Carlson, HR Dance, Jiemin Yang, The Feledi Project, Zehnder Dance, Cara Diaz Collective, Ruri Watanabe, MotISparsi, Matilda Mackey, WHITE WAVE Dance.
Program 3: Sunday, Nov. 15th at 7PM
Madison Pineda, Liz Dibble Dance, Jack Murphy, Smutek Dance Project, Mayu Nakaya, Alison Cook Beatty Dance, Sarah Elgart | Arrogant Elbow, Alexander Sargent, Biggs & Co., WHITE WAVE Dance.
Tickets are now on Sale : General ticket $10 | All three Programs $20
• TICKETS: by Thurs. Nov. 12, 2020.
• After submitting the payment, we will send you an email containing the live stream YounTube link and Program info.
Join us on Friday, November 13, at 7 PM for our Virtual Gala!
WHITE WAVE's mission is to act as a potent stimulus to expand the horizons of Dance by producing dance concerts, Festivals, residencies, and educational activities.
We provide dancemakers an opportunity to congregate, create, and present new works on prestigious stages to the discerning NYC & global audience.
For more info, call 718.855.8822 or e-mail 2020soloduo@gmail.com