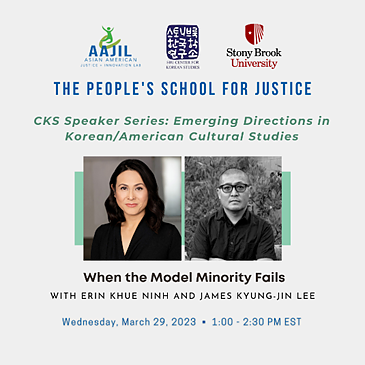 Panel Discussion/Talk
When the Model Minority Fails
Wednesday, March 29, 2023
1 – 2PM
A discussion about model minority racialization with the authors of Pedagogy of Woundedness and Passing for Perfect
Pedagogies of Woundedness: Illness, Memoir, and the Ends of the Model Minority by James Kyung-Jin Lee
The pressures Asian Americans feel to be socially and economically exceptional include an unspoken mandate to always be healthy. James Kyung-Jin Lee considers how popular culture often positions Asian Americans as medical authorities and what that racial characterization means. Throughout his book and these case studies, Lee shows the social, ethical, and political consequences of these common (mis)conceptions that often define Asian Americans in regard to health and illness.
Passing for Perfect: College Impostors and Other Model Minorities by erin Khuê Ninh
In her engaging study, erin Khuê Ninh considers the factors that drove college imposters such as Azia Kim—who pretended to be a Stanford freshman—and Jennifer Pan—who hired a hitman to kill her parents before they found out she had never received her high school diploma—to extreme lengths to appear successful. Passing for Perfect insists that being a "model minority" is not a "myth," but coded into one's programming as an identity—a set of convictions and aspirations, regardless of present socioeconomic status or future attainability—and that the true cost of turning children into high-achieving professionals may be higher than anyone can bear. Ninh's book codifies for readers the difference between imposters who are con artists or shysters and those who don't know how to stop passing for perfect.