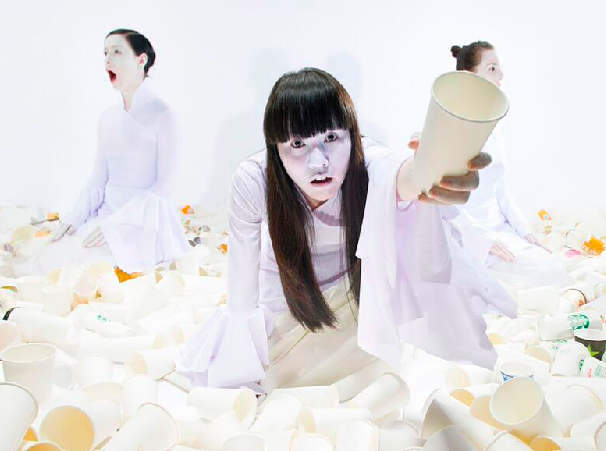 Wake Up and Smell the Coffee Vangeline Theater Butoh for Waste Prevention: Reducing Coffee Trash in New York
April 20 – April 22, 2017
8PM
Triskelion Arts, in association with Vangeline Theater, presents Wake Up and Smell the Coffee – Butoh for Waste Prevention: Reducing Coffee Trash in New York at Triskelion Arts (106 Calyer Street, Brooklyn, NY 11222) from April 20-22, 2017 at 8pm. Tickets are $16 and are available at https://www.eventbrite.com/e/triskelion-arts-presents-vangeline-theater-tickets-30044256179.
Vangeline Theater seeks to increase environmental awareness in New York and nationally, resulting in a positive impact on our ecosystem. As a key component of this initiative, Vangeline Theater will remount an evening-length Butoh performance piece, for a total of three performances, and the final show will coincide with Earth Day on April 22, 2017.
Wake Up and Smell the Coffee utilizes the intensity of the art form Butoh to convey a serious problem: the environmental repercussions of non-recyclable waste. The tradition and techniques of Butoh are rooted in an art form that has the power to bring us back to our humanity and become closer to the Earth through meditative and hypnotic movement motifs. This includes uncomfortable truths we need to face, such as confronting the "garbage," or grotesque parts of our society. The performers will literally dance through garbage; a set made of collected unsalvageable coffee cups. This initiative will serve to increase environmental awareness in New York City through dance and have a tangible impact on our ecosystem.
Organized by
Michelle Tabnick Communications
Contact
lilli@michelletabnickcommunications.com