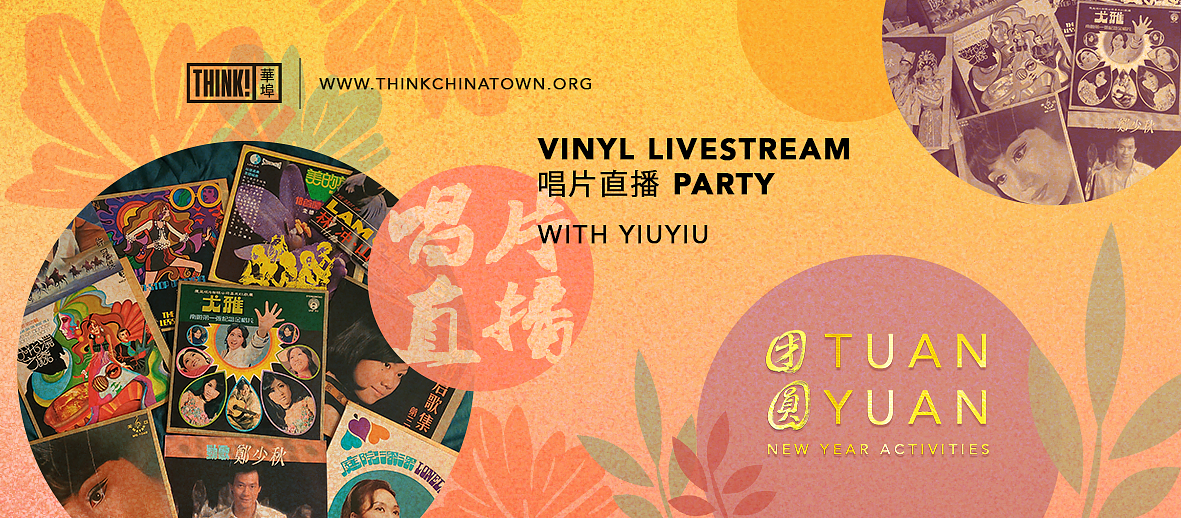 Performance
Vinyl Livestream 唱片直播 Party
Saturday, February 13, 2021
9 – 10PM
Celebrate the Year of the Ox with an all-vinyl livestream dance party hosted by DJ YiuYiu!
With red lanterns as our disco ball, gather your loved ones under its glow and ring in the new year with our lunar livestream. Featuring melodies from Cantonese opera to Taiwanese pop, this growing archive of family record collections holds precious memories of home that bring us back together, even from afar. YiuYiu pays tribute to her own family and to the longtime Chinatown community members, who have trusted her to keep these musical memories spinning. Sing, sway, and dance along as she takes us on a journey back in time through song. Meet you on the dance floor!
This virtual party is free/pay-as-you-wish and you don't need to bring anything but your own two feet! Invite your loved ones to dance with you, whether in your home or virtually from afar. Proceeds from the event will go directly toward supporting our non-profit so we can continue our work of storytelling, arts, and neighborhood programming in Chinatown.
Please consider purchasing our Tuan Yuan 團圓 Homecoming Box, which includes materials and ingredients for our other virtual T!C Lunar New Year events, and additional goodies from our partners. Available through Pearl River Mart for a limited time. www.thinkchinatown.org/tuanyuan-box
Everyone is welcome to join the event. If you'd like to attend but you cannot donate, please send an email to hello@thinkchinatown.org to register at least a day in advance of the event.
---
YiuYiu aka Rochelle Kwan loves all things audio. She brings together vinyl and storytelling to explore memory through music and foster intergenerational relationships and dancefloors. When she's not behind the turntables, you can find her producing storytelling projects with Think!Chinatown and Self Evident, training students on oral history at Hunter College's Asian American Studies Program, or dancing until the sun comes up (even from home). To listen to YiuYiu's past mixes, head over to soundcloud.com/yiu_yiu
Think!Chinatown, a 501©(3) non-profit based in Manhattan's Chinatown, is here to listen, to respond, and to build Chinatown's capacities as a strong & vibrant immigrant neighborhood of NYC. Our mission is to foster inter-generational community through neighborhood engagement, storytelling & the arts. We believe the process of listening, reflecting & celebrating develops the community cohesion and trust necessary to take on larger neighborhood issues. Our aim is to overcome barriers of community organizing where socio-economic factors, language, and cultural barriers create challenges for immigrant communities' autonomy to make decisions in their own neighborhood. We've built Think!Chinatown to push from within our neighborhood to shape better policies and programs that define our public spaces, to celebrate our cultural heritage, and to innovate how our collective memories are represented.