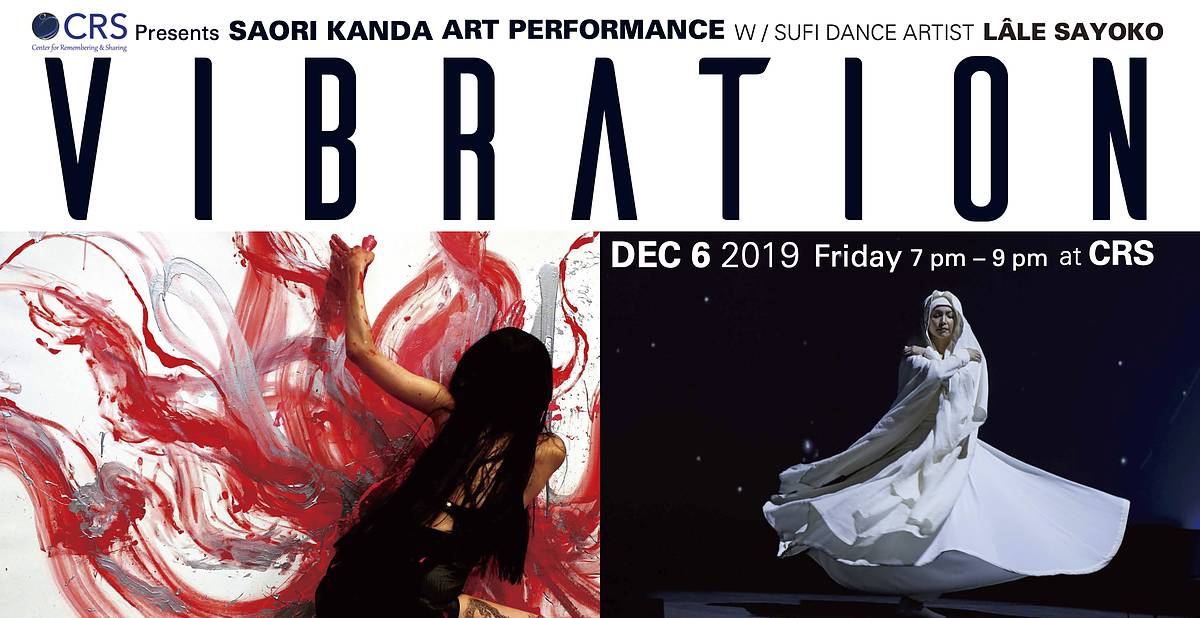 Performance
Vibration: SAORI KANDA Art Performance with LÂLE SAYOKO
Friday, December 6, 2019
7 – 9PM
CRS (Center for Remembering & Sharing) presents VIBRATION: SAORI KANDA art performance with Sufi Dance artist LÂLE SAYOKO on Friday, Dec 6 2019 from 7 – 9 pm. VIBRATION brings together two internationally touring artists known for improvisationally translating music into visual art and movement. In conjunction with the live performance, an exhibition of Kanda's paintings will be on view in the CRS lobby.
Painting with bare hands, brushes, sometimes throwing paint, 2019 Independent Tokyo Contemporary Art Fair Audience Award Winner SAORI KANDA brings to life delicious large-scale scenes of nature and fantasy inspired by her love of Japanese art (both traditional and modern) as well as the flowing Arabesques to which she was exposed growing up in the Middle East. While SAORI paints, LÂLE SAYOKO, in a free-spirited approach to the Sufi practice known as sema (spiritual listening), follows the music's vibrations to unfold the ever-flowing movements of nature, such as the opening and closing of a flower dancing in the wind (lâle means tulip in Turkish).
Tickets are $25 in advance and $30 at the door and are available online and at CRS. Students and seniors are $20. A limited number of free tickets for children 12 and under accompanied by an adult are available online.
This event is supported by the GLOBUS RYOKAN ARTIST-IN-RESIDENCE program and is one of a series of events in early December featuring Saori Kanda across the city.