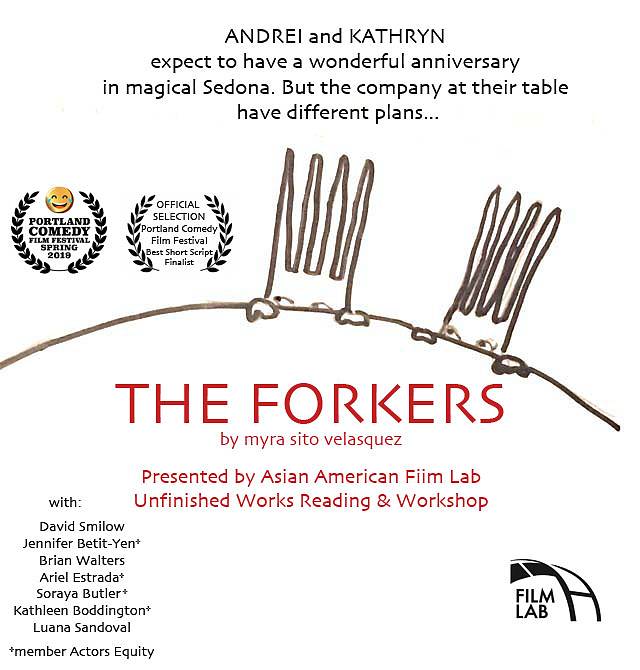 Comedy Show
Film Lab's Valentine's "Unfinished Works" Screenplay Reading & Workshop Featuring Award-Winning Filmmaker Myra Velasquez's THE FORKERS
Tuesday, February 11, 2020
6 – 8PM
Join the Asian American Film Lab for a romantic evening of laughs as professional actors read award-winning filmmaker Myra Velasquez's award-winning script "The Forkers," followed by a workshop of the piece with the writer, Myra, and wine and crudites. Come, enjoy a glass of vino and some great comedy in Film Lab's first event of the New Year!
NOTE: **Please note: we will have wine and some yummies to munch on. In the interests of being green and environmentally friendly, please BYOC (Bring Your Own Cup). Thank you!
The Cast:
DAVID SMILOW( Andrei, Fork One) is an actor and writer based in the Hudson Valley. As a performer, he's appeared in Marcellus Shale at La Mama in NYC, Wednesday's Child at the Florida Studio Theatre in Sarasota, Boeing Boeing and Oleana at the Phoenicia Playhouse, Uncle Vanya and Good People with Performing Arts of Woodstock. Other recent productions include Copenhagen, Tartuffe, A Christmas Carol, The Tavern and The Revenge of the Space Pandas. (The latter is not a typo.) As a writer, David has worked in theater, television and the movies. He served as a script writer for the daytime dramas One Life to Live, Guiding Light, and As the World Turns and received two Emmys and three Writers Guild Awards for his efforts during that period. The Forkers is his first opportunity to play a utensil.
JENNIFER BETIT YEN (Kathryn) is an actor, writer and producer. She is thrilled to be reading the role of Kathryn in Myra Sito Velasquez's wonderful "The Forkers". This will mark the third time she has had the pleasure of working with Myra, one of her most favorite writer/directors, in her capacity as an actor. Jennifer can be seen on TV in recurring roles in both New Amsterdam (NBC) and the final season of Royal Pains (USA). She has also appeared on Search Party (TBS) and in many other shows, films and plays. New York City Mayor Bill DeBlasio proclaimed May 9, 2019 "Jennifer Betit Yen Day" in honor of her acting and activism work. A graduate of Cornell University, Jennifer is the President of the FIlm Lab, a non-profit promoting diversity in the arts. She created the IWATTAU ( Immigrants: We are Them. They are Us") project, through which New Yorkers from all walks of life shared their hopes and fears about immigration on a multi-media platform to create a non-polarizing, constructive dialogue. She is a staunch animal welfare advocate and, in her spare time, she boxes and enjoys fine vegan dining with her husband and running with her beloved rescue mutt. www.jen-yen.com
BRIAN WALTERS (Waiter Bruno, Fork Two) is a NYC actor and host originally from Yokohama, Japan. With a biracial and bilingual background, Brian got his acting start in NHK's "Tensai Terebi-kun" in Japan. With over 21 years of experience, he has been seen in numerous commercials, shows, and films on many platforms around the world. As host and associate artist, Brian can be seen every week at "BATSU!", a live Japanese game show, in the East Village. Stay tuned for his upcoming appearances in "Embattled" and Apple TV+'s "Lisey's Story". For more info, check out http://www.brianwaltersacting.com/
ARIEL ESTRADA ( Chef) Ariel Estrada is an actor, singer, arts advocate, producer and Founder & Producing Artistic Director of Leviathan Lab, am awarding winning creative studio for Asian American performing artists. As an actor and singer, Ariel has performed on television, film, commercials, industrials, new media, and Off-, and Off-Off-Broadway. As an arts advocate, he is the Communications Associate at The Tank, a NYC based nonprofit multi-disciplinary arts presenter and producer. He recently was a fellow in the 2019 cohort of the New York Foundation of the Arts Emerging Arts Leaders Boot Camp, a yearlong career development program for arts leaders of extraordinary promise. In 2017, he was designated as a Rising Leader of Color by Theatre Communications Group and also completed a yearlong training with the New York Community Trust's Race Forward Racial Equity in the Arts Innovation Lab.
SORAYA BUTLER (Spoon One) Soraya Butler is a dynamic actress and voice artist who currently lives in Brooklyn. She originally hails from Boston and can certainly "pahk the cahr". Soraya loves to travel and is genuinely curious about different cultures. She believes
that art in all mediums help us to express our humanity and is what connects us together on the planet. This curiosity into the human condition helps Soraya bring depth, dimension and intelligence to life in the characters she portrays. Soraya is grateful to be a storyteller. She absolutely has the gift of gab and has never, ever met a stranger. Soraya can be seen near the end of the film "Ocean's 8"as the auctioneer and as a nurse in Season Two of "Pose". www.SorayaButler.com
LUANA SANDOVAL (Stage Directions, Chef) Luana is a German-born professional opera singer and is thrilled to be reading in this piece.
KATHLEEN BODDINGTON (Spoon Two) Kathleen is an actor and cat lover. She is from New York City.
The Writer:
MYRA SITO VELASQUEZ (Writer/ Director) Of Chinese, Mexican and German heritage born and raised in Tokyo, Myra Sito Velasquez is an award winning filmmaker and playwright based in New York. Her debut film Mother's Blood is the winner of the Lawrence Kasdan Best Narrative Film Award, Grand Prize Chick with Flicks among others. Her action comedy Kung Fu Granny is the recipient of Big Island Film Fest's Golden Honu Best of the Fest Short Film Award, Hawaii Intl FF's Gold Kahuna and BIFF's Family Favorites with world wide distribution via Ouat! Media and others. Her feature screenplay DIANA is a Sundance Lab Finalist and BlueCat Award Winning Finalist. Her play The Astonishing Journey of Mabel Li and The Mysterious Ways of Lord Ba Tha Za is a Eugene O' Neill Playwrights Conference Fianlist and was also part of MU Theater's New Eyes Festival. Myra has also served as literary advisor at American Place Theater, IFP script consultant and member of CineWomenNY's Screening Team. Most recently, her short script WILD SOUNDS was a Creative World Awards Semi Finalist and THE FORKERS, of which there is also a stage version, is among the Five Best Short Screenplay Finalists of Portland Comedy FF' 19. http://www.myravee.com