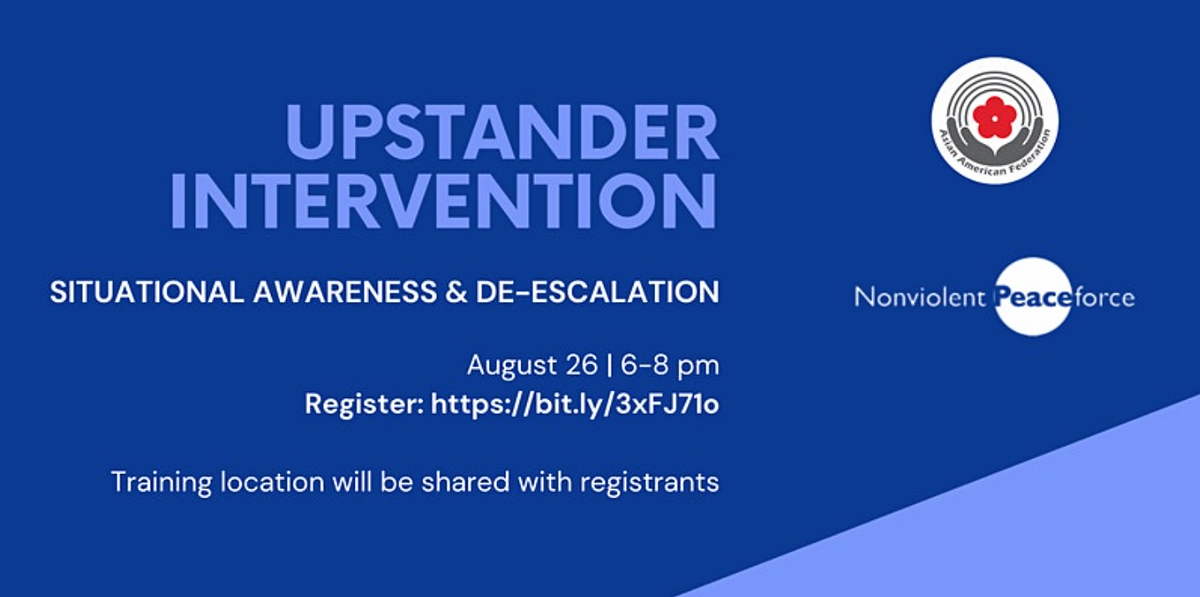 Community Event
Upstander Intervention Situational Awareness & De-Escalation
Thursday, August 26, 2021
6 – 8PM
We need your help, New York!
In 2021, Asian New Yorkers have experienced more attacks in the first six months alone than in all of 2020. Despite waning media attention, verbal and physical assaults continue unabated, with many women, seniors, and youth feeling scared to go outside.
We can all be a part of the solution to keep ourselves and each other safe!
The Asian American Federation is excited to partner with Nonviolent Peaceforce for an IN-PERSON workshop on Mutual Protection and Upstander Intervention to protect you and your community from harm. This workshop will introduce participants to holistic skills and tools used by human rights defenders around the world to uplift their communities and keep themselves safe from violence.
Date: Thursday, August 26 | 6-8 pm
Location: The training will be in Queens and for security reasons, the location will only be shared with registered applicants.
The Asian American Federation is a pan-Asian leadership organization that has been leading the response to the surge in anti-Asian violence. Find out more about our Hope Against Campaign to keep Asian New Yorkers safe.
Nonviolent Peaceforce works with historically marginalized communities and those at risk of violence from state and non-state actors. They protect civilians in violent conflicts through unarmed strategies. They build peace side-by-side with local communities. They advocate for wider adoption of these approaches to safeguard human lives and dignity.
Organized by
Asian American Federation & Nonviolent Peaceforce