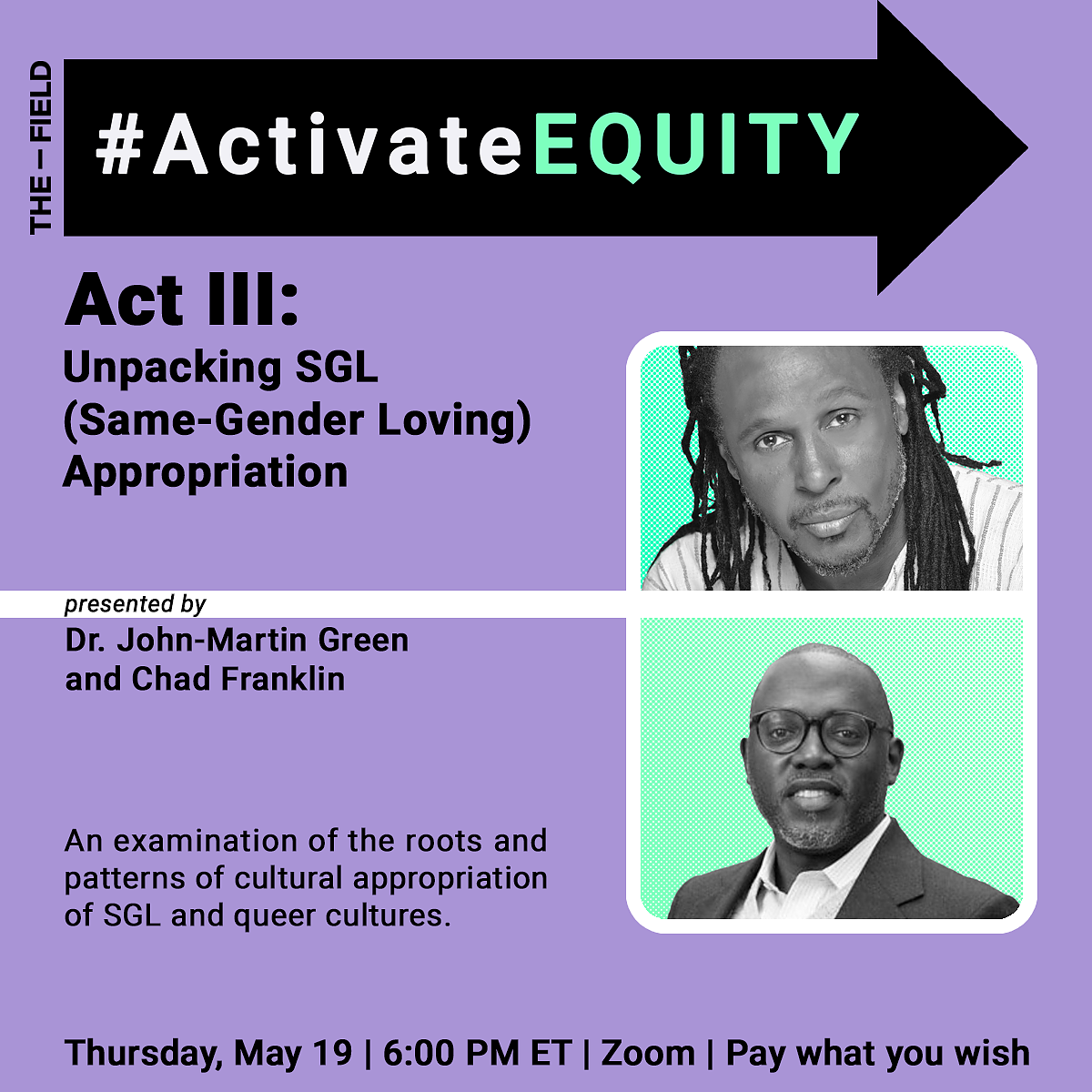 Webinar
Unpacking SGL (Same-Gender Loving) Cultural Appropriation
Thursday, May 19, 2022
6 – 7:30PM
Where cultural appropriation involves members of a dominant culture assuming and misusing practices, artifacts or ideas of a subjugated culture, it reflects an unbalanced power dynamic in which there exists a history of oppression and discrimination. In Unpacking SGL (Same-Gender Loving) Cultural Appropriation, health educators Dr. John-Martin Green and Chad Franklin will lead us through an examination of some of the roots and patterns of cultural appropriation of SGL (Same-Gender Loving) and queer cultures, and an exploration of cultural humility skills to support appropriate appreciation of the culture.
John-Martin Green, EdD is Founder and Executive Director of The Gatekeeper's Collective (TGC), a resiliency enhancement network of same gender loving (SGL) African descended men that works to facilitate identity reformation, empowerment, health promotion and wellness. TGC operates as a self-reclamation center where participants commit to unlearning internalized racial and sexual oppression, integrating their multiple identities, aligning with their leadership potential, and becoming proactive change agents in their communities.
As Co-Founder and Co-Artistic Director of Blackberry Productions Theatre Company, John-Martin develops and produces theater that sheds light on issues impacting our communities and creates forums for a multiplicity of voices and perspectives in solution-focused reflection. Dr. Green teaches Community Health, Interpersonal Relations and Nutrition at Hostos Community College, of the City University of New York, and has taught theatre at New School University, Brooklyn College, and SUNY campuses at Old Westbury and Nassau Community College
Chad E. Franklin is the former Co-CEO of Be A Champion Foundation and brings with him a relentless focus on effective program development and a heart for eradicating issues that cripple communities. Franklin's reputation for developing integrated solutions has many considering him a most revered problem solver in the nonprofit community. He is a graduate of Stanford Graduate School of Education,and has over 23 years of experience developing curricula and building programs and capacity for organizations such as the NYC Department of Education, Monroe County Corrections, The University of Rochester School of Medicine and Dentistry and Rikers Island Correctional Facility. Franklin has overseen 3 educational companies, and holds extensive non-profit experience in professional development training and leadership roles with organizations such as the Youth Development Institute (YDI), and Healing Arts Initiative, Inc. (HAI).
ASL Interpretation will be provided. Please download the latest version of Zoom so that you may utilize the live captioning option. Please send any questions you may have to Program Associate Natalie Mármol at natalie@thefield.org.
This event will last approx 1 hour and 30 minutes.
Pay-what-you wish
Registration for this event closes May 19th, at 4:00 PM ET.