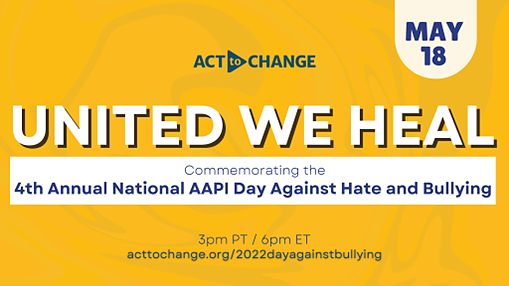 Community Event
United We Heal
May 18 – May 19, 2022
6 – 12AM
In 2019, Act To Change spearheaded the inaugural National AAPI Day Against Bullying+Hate on May 18, in honor of the birthday of Vincent Chin. This year marks 40 years since Vincent Chin was murdered in a brutal hate crime. May 18, 2022 would have been his 67th birthday. 40 years later, anti-AAPI sentiment still persists in our society. Anti-Asian hate crimes increased by 339% in 2021.
May is also Mental Health Awareness Month. The AAPI community has the lowest help-seeking rate of any racial group, due to lack of awareness, and linguistic and cultural barriers.
We're proud to host the 4th annual national AAPI Day Against Bullying+Hate with the support of municipalities, elected officials and partner organizations. Please join us for a day of commemorative activities and a signature virtual event.
It is more important now than ever that we stand up to racism, and protect our youth from bullying.
#ActToChange #DayAgainstBullying
UNITED WE HEAL
VIRTUAL EVENT
Our virtual livestreamed program will highlight the importance of mental health and wellness in breaking barriers for the AAPI community. This program will feature a number of guests ranging from celebrities and leaders in entertainment, activism, health and wellness, and more.
Wed, May 18, 2022 3pm PT / 6pm ET
In Person reception in LA for Japanese American National Museum $0 to$75

Wed, May 18, 2022 6-9pm PT / 9-12am ET