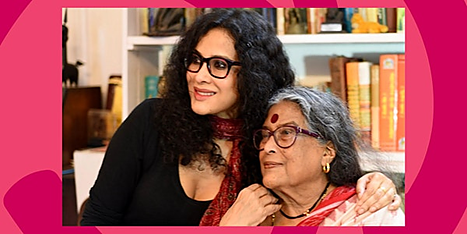 Reading
Unbroken Time, Infinite Space: The Acrobatic Poetry of Nabaneeta Dev Sen
Saturday, May 14, 2022
4 – 6PM
This event will take place in person at the Library for the Performing Arts.
In celebration of Mother's Day, the Library for the Performing Arts is delighted to present an afternoon of poetry, dance, and conversation with writer and actor Nandana Dev Sen. She will be joined by dancer and choreographer Preeti Vasudevan, actor Sarita Choudhury, and writer Marina Budhos, who will share their own interpretations of the poetry through performance and discussion.
Nandana will read from Acrobat, Nabaneeta Dev Sen's radiant collection of poetry about womanhood, intimacy, and the body politic that together evokes the arc of an ordinary life. Dev Sen's rhythmic lines explore the contours of first love, motherhood, loss and decay with a restless, tactile imagination, both picking apart and celebrating the rituals that make us human. Translated with lightness and lyricism her daughter Nandana, Acrobat is at once compassionate and unsparing, conversational and symphonic.
Please join us with your families on what promises to be a very special Saturday afternoon.
Nabaneeta Dev Sen (1938 – 2019) remains one of the most beloved, versatile and prolific Bengali writers of all time. She published her first book of poems at the age of 21, and grew to be immensely popular in every genre. Equally expressive in poetry and prose, fiction and nonfiction, she has over one hundred books to her credit, including compilations of poems, novels, plays, stories, memoirs, academic essays, children's literature, political columns, literary translations, and multiple volumes of her collected works.
Educated in Presidency College and Jadavpur University in Kolkata, and then at Harvard, Berkeley and Indiana Universities, Dev Sen lived a parallel life as a highly acclaimed international scholar and feminist, and a distinguished professor of comparative literature. Her many honors include the Padma Shri, Sahitya Akademi Award, Bangla Academy Lifetime Achievement Award, Big Little Book Award for Children's Literature, and the Lifetime Achievement Award of the Publishers and Booksellers Guild.
A tireless mentor to students and young writers, Nabaneeta Dev Senwas the Founder and President of the West Bengal Women Writers' Association, Soi.
Nandana Dev Sen
A writer, child-rights activist, and an award-winning actor, Nandana Dev Sen is the author of six children's books, translated into more than 15 languages globally. She grew up in India, England and America, and has starred in 20 feature films from four continents (and in multiple languages). After studying literature at Harvard University and filmmaking at the USC School of Cinema-Television, Nandana worked as a book editor, a screenwriter, a script-doctor, an advocate for child protection, and as Princess Jasmine in Disneyland. The winner of the Last Girl Champion Award as well as several Best Actress awards, Nandana has served on the jury of numerous child-protection commissions, global film festivals and international literary prizes. As an advocate and ambassador, she has represented UNICEF, Operation Smile, RAHI, and the National Commission for Protection of Child Rights, to fight against child abuse and to end human trafficking.
Nandana is Child Protection Ambassador for Save the Children India. She is on Facebook, Instagram, and Twitter (all three at Nandana Dev Sen), as well as LinkedIn. For news and updates, please swing by www.nandanadevsen.com.
Preeti Vasudevan
Award-winning choreographer and cultural storyteller Preeti Vasudevan's provocative theatrical works redefine individual identity, uniting artists and audiences alike. Known for igniting groundbreaking artistic partnerships, Preeti frequently collaborates with celebrated artists such as legendary cellist Yo-Yo Ma, Guggenheim awardee Paul Kaiser and with leading ensembles like Silkroad. Preeti's works have been commissioned by distinguished institutions including The Metropolitan Museum of Art NY, Glimmerglass Opera Festival NY, Guggenheim's Works & Process NY, New Victory Theater NY, Morph Dance Company UK, and The Alliance Francaise, among others.
Marina Budhos
Marina Budhos is an author of numerous award-winning novels and nonfiction for adults and young adults. Her books are on core reading lists throughout the country and abroad, and immigrant and multicultural organizations have featured her work as exemplary in illuminating the lives of diverse young people. Her newest novel, We Are All We Have, about a Pakistani girl on the run after an ICE raid, is forthcoming in 2022. Her co-authored book, Eyes of the World, is being adapted as a TV series by Dev Benegal, and her novel Watched is also under development with filmmaker Afia Nathaniel. She has been a Fulbright Scholar to India, during which she lived in the family house of Nabaneeta Dev Sen. Prior awards include an NEA Literature Fellowship, a Rona Jaffe Award for Women Writers, an LA Times Book Finalist honor, and three Fellowships from the New Jersey Council on the Arts. A graduate of Cornell and Brown universities, she is a professor of English at William Paterson University. She and her husband Marc Aronson oversee the Boris Aronson-Lisa Jalowetz archive, part of which is housed at the Lincoln Center Library.
Sarita Choudhury
The acclaimed actress Sarita Choudhury, who is of Bengali and British descent, grew up in Jamaica and Italy; and she regularly visits her parents, who are now retired, in Kolkata. After completing her university at Queens in Canada, with a film/economics degree in hand, she full-heartedly followed her passion of acting with her debut in Mira Nair's Mississippi Masala. Sarita went on to do films such as Kamasutra, Hologram for the King, The Green Knight, After Yang, as well as television shows such as Homeland and currently And Just Like That. Sarita resides in New York but is constantly travelling. Her abiding passions are reading, dancing and day dreaming.
As of March 14, the Library encourages mask wearing in all public spaces.