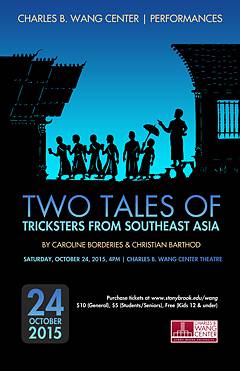 Two Tales of Tricksters from Southeast Asia
Saturday, October 24, 2015
4 – 5:30PM
Admission: $10 (General) / $5 (Students, Seniors ages 65 and up) / FREE (Kids 12 and under)
Open seating
Shadow puppetry is part of the rich theatrical traditions of many Southeast Asian countries. Colonizers and travelers from France encountered this art form in the eighteenth century and brought it back to Europe with them under the nameombres chinoises (literally "Chinese shadows", though the French mainly imitated Indonesian, Thai and Burmese styles.) These ombres chinoises were particularly popular in England and France from the eighteenth century until the end of the nineteenth century.
French puppet masters Caroline Borderies and Christian Barthod revive this cross-cultural art form by interpreting classical Asian folk tales with their own distinctive French flair. In this performance Ms. Borderies and Mr. Barthod will present "Two Tales: Xieng Mieng Stories", about the popular Lao character Xieng Mieng, who uses his quick wits and his sly sense of humor to challenge the king, and "The Adventures of Sang Kancil the Mouse-Deer" from Malaysia, about a popular character who uses wit and intelligence to triumph over big and mean-spirited animals.
This world-class puppetry will be a delight for kids and adults alike.
Organized by
Charles B. Wang Center
Contact
wangcenter@stonybrook.edu