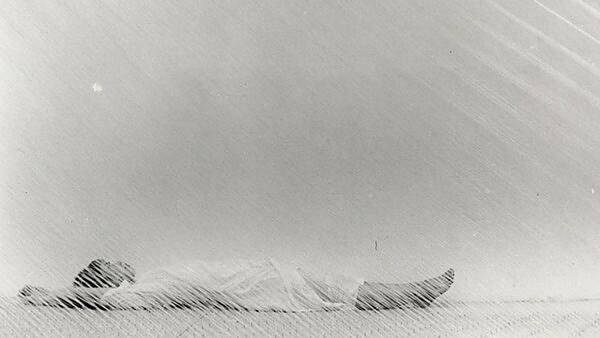 Performance
Tipping Utopia Toward Kazuko Miyamoto
Saturday, July 16, 2022
2 – 6PM
Saturday, July 16, 2pm and 5pm
This newly commissioned performance brings to life the works on view in Kazuko Miyamoto: To perform a line (exhibition now extended through July 24). Yoshiko Chuma, conceptual performing artist, dancer, choreographer and director of The School of Hard Knocks, combines movement and improvised music, erasing the boundaries between onstage and backstage, and between artistic practices. In 1979, Chuma performed among Miyamoto's string constructions installed as part of the artist's solo exhibition at A.I.R. Gallery (Yoshiko Chuma in Kazuko Miyamoto: A Girl on Trail Dinosaur). Now, Chuma reconnects with Miyamoto through this event, which runs throughout the entire gallery space. The performance also features three musicians: double bassist Robert Black, viola and violinist Jason Kao Hwang and trombonist Christopher McIntyre.
Concept and direction by Yoshiko Chuma, Artistic Director of The School of Hard Knocks.
Free with Gallery Admission
Performers
Yoshiko Chuma, conceptual artist, choreographer and director
Robert Black, double base
Jason Kao Hwang, violin/viola
Christopher McIntyre, trombone
Yoshiko Chuma is a conceptual artist, choreographer and artistic director of The School of Hard Knocks, founded to create experimental, multidisciplinary, and multimedia work. A firebrand in the post-modern dance scene of New York City since establishing her company in 1980, Chuma produces thought-provoking and category-defying work that is neither dance nor theater nor film. Chuma has performed in over 40 countries throughout the United States, East and Central Europe, Asia, Middle East, and South America and with over 2,000 collaborators, from street performance to formal theater and dance concerts to large-scale spectacles. Notable international performers involved in The School of Hard Knocks include Stephen Petronio, Vicky Schick, Jodi Melnick, David Zambrano, Sasha Waltz, Sarah Michelson, DD Dorvillier, Allyson Green, Miraim Parker, Simon Courchel, John Jasperse and David Dorfman, among others.
Robert Black tours the world creating unheard-of music for the double bass, collaborating with artists in all disciplines. He has been the Bang on a Can All-Stars bassist since their inception. Current projects include First Fridays with Robert Black – a monthly series of streamed bass recitals, a 10-channel audio/video bass installation reflecting on the Anthropocene with sound-artists Brian House and Sue Huang, and an outdoor environmental work for 24 basses with composer Eve Beglarian. He founded and directed the Robert Black Foundation Trust, a not-for-profit organization whose mission is to support contemporary musical arts activities in all possible manifestations.
The music of Jason Kao Hwang (violin/viola) explores the vibrations and language of his history. His most recent releases, The Human Rites Trio and Conjure, as well as his 2015 have received critical acclaim. In 2020, 2019, 2018, 2013 and 2012, the El Intruso International Jazz Critics Poll voted him #1 for Violin/Viola. The 2012 Downbeat Jazz Critics' Poll voted Mr. Hwang as Rising Star for Violin. He has worked with William Parker, Anthony Braxton, Butch Morris, Reggie Workman, Pauline Oliveros, and many others.
Christopher McIntyre performs on trombone and electronics in various musical contexts (from improvisative to interpretive) within the protean NYC music community. He is Director and Co-Founder of Brooklyn's TILT Brass, curates programs for Either/Or Ensemble, teaches contemporary brass chamber music at Mannes School of Music at The New School, and frequently performs in groups such as TILT, Either/Or, SEM and Talea Ensembles, among many others. He can be heard on recordings released by New World, Tzadik, XI, Mode, Edition Modern, POTTR, zOaR, and Non-Site Records. McIntyre has contributed to the broad revival of composer Julius Eastman's music, having transcribed and/or created several score realizations since 2006. He also composes his own music for various media and instrumental forces, often employing creative systems suggested by the work of visual artists (particularly Robert Smithson.)
Photo Credit: Photography by Jacob Burkhardt