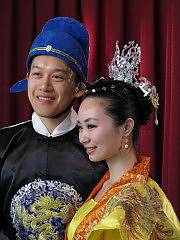 THE STORY OF YU-HUAN 長恨歌
May 30 – June 22, 2014
7:30 – 6PM
Yangtze Repertory Theatre production presented by Theatre for the New City:
"The Story of Yu-Huan" Drama in two acts, written and directed by Joanna Chan A bilingual drama with dance on the celebrated beauty (708-746 A.D.), whose hanging death marked the decline of the mighty Tang Dynasty
Performance dates: May 30th to June 22nd 2014 Thursday through Saturdays at 7:30pm, Sunday at 3:00pm
Added performance on Wednesday June 18th at 7:30pm
Location:
Theater for the New City (The Johnson Theatre)
155 1st Avenue New York, NY 10003
Between 9th and 10th street.
$25.00 general admission; $20 for seniors and students; Wed. and Thurs. pay-what-you-can. Box office: Smarttix 212-868-4444,www.smarttix.com. Reserve by email YangtzeRSVP@gmail.com Running time: 2 hours (incl. intermission). Previews May 30 & 31, opens June 1.
"The Story of Yu-Huan." A bilingual drama (with dance!) centers on a woman who was born of royal lineage during China's Tang Dynasty. At 15, she married Prince Shou, a son of the Emperor, who, at a chance encounter, fell in love with his daughter-in-law and took her for his own. Unlike many of the women in the royal circle, Yu-Huan harbored no personal ambition and was submissive to her fate. In the tumultuous and desperate hour of General An Lu-Shan's rebellion, toward the end of the reign of Emperor Xuan Zong, she was made to bear the brunt of the people's rage and ordered to take her own life.
This new version of Yu Huan's story will be performed in English and Mandarin and will be completely understandable to English-speaking audiences. It joins the body of the playwright's work as an indictment of a cultural tradition not governed by law, where the most basic of all rights falls victim to the whims of a self-appointed few. In the Chinese tradition of playwriting, there is no psychological dialogue–the horror of the story is communicated in the facts of the play and in the characters' actions. Throughout the play, Yu-Huan does not get to speak; her fate is hammered home as the decisions of her life are made for her.
The multi-ethnic cast of 18 includes its choreographer, Ashley Liang, as Yu-Huan (the title character), Charles Pang as the Prince, Zhang ChunZhi as the Emperor and Alexander Reed as General An LuShan. The ensemble includes Sheila Romo, Ave Cheung, Allison T. Chi, Lu Zhao, Ricky Lin, Alli Urbanik, XueMing Chen, Elisa Pupko, Sarah Young, Brandi Dyer, Jeremy Rafal, Gary Sugai, Bill Engst and Michael Liu. The ethnic mix of this cast is: five Caucasians, one African-American, two Filipinos, one Japanese Hawaiian and nine Chinese, five from mainland China, two from Taiwan and two from Hong Kong.
For more information, please visit: http://www.yangtze-rep-theatre.org
Organized by
Wayne Chang
Contact
YangtzeRSVP@gmail.com