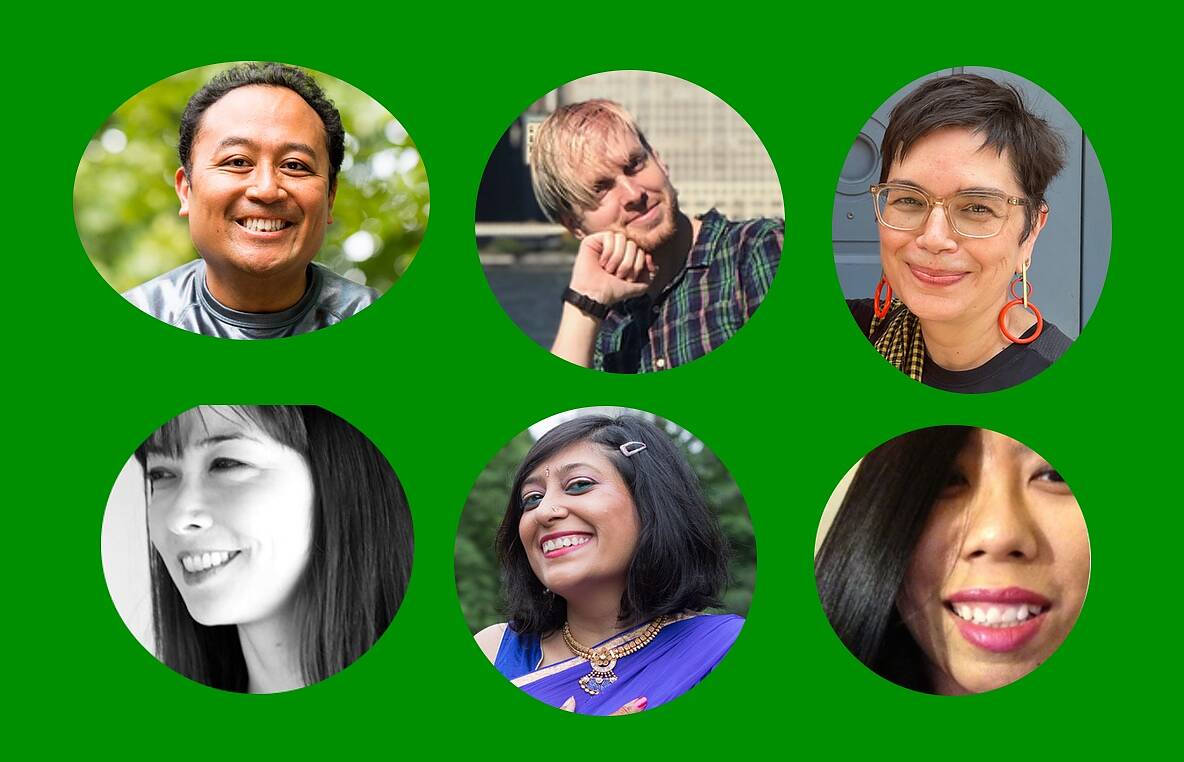 City Artist Corps
The Poet's Table
Saturday, September 4, 2021
3 – 6PM
Taking place on the sidewalk under Nitehawk Cinema's marquee across from Prospect Park, The Poet's Table offers playful access to poetry, an art form that many experience only on rare occasions. During this afternoon of one-on-one readings, poets will recite a poem to each person who visits their table. Supported by a New York City Artist Corps grant, this poetry activation aims to facilitate joyful connections between poets and the New York public. Regie Cabico, April Naoko Heck, Purvi Shah, and other poets will read poems on Saturday, September 4th from 3-6pm.
The Poet's Table at Nitehawk Prospect Park, Saturday, September 4
Poets will read one poem to each visitor.
3-4pm April Naoko Heck + Purvi Shah
4-5pm Regie Cabico + Brenda Gillett
5-6pm Molly Gross + Irene Villaseñor
Safety Protocols
Masks will be available as will hand sanitizer. The Poet's Table team will monitor line formation and there will be markers on the sidewalk for standing six feet apart.
THE POETS
About Regie Cabico
Regie Cabico is a spoken word pioneer having won The Nuyorican Poets Cafe Grand Slam and later taking top prizes in three National Poetry Slams. Television credits include 2 seasons of HBO's Def Poetry Jam, NPR's Snap Judgement & MTV's Free Your Mind. His work appears in over 30 anthologies including Aloud: Voices from the Nuyorican Poets Café, Spoken Word Revolution & The Outlaw Bible of American Poetry. Literary journal publications include Poetry, Bellevue Literary Review, poets.org & Beltway Poetry Quarterly.
About Branden Gillett
In both his teaching and personal work, Brendan has a deep fascination with transmedial storytelling and simultaneous multiliteracy, meaning he's always working in different styles, genres, and mediums. Along with Regie Cabico, he helped launch Capturing Fire Press helped launch Capturing Fire Press with his chapbook, A Puzzle Is Still Made of Pieces. He's performed at various spoken word venues up and down the east coast and curates the ongoing Queer Nerd Poetics reading series.
About Molly Gross
The Poet's Table concept and producer, Molly Gross is an artist, poet, and curator. As cofounder of Saint Flashlight, she is devoted to placing poetry in public spaces. Gross is a board member of The Poetry Project and the author of six chapbooks: "The Whisperer," "Crisscross," "Shape," "Between My Teeth," "Perpendicular," and "Glass, Maybe." Her work has been published and anthologized by "Diagram" and she was one of the featured readers in The Poetry Project's 2020 New Year's Marathon Reading.
About April Naoko Heck
Born in Tokyo, April Naoko Heck moved with her family to the U.S. when she was seven. Her poems have garnered an AWP Intro Journals Award, Academy of American Poets Prize, and Allen Tate Memorial Award, among other honors. A Kundiman Fellow, she has been awarded residencies at the Virginia Center for the Creative Arts and Vermont Studio Center. With the support of this incredible community of Asian American writers, she published her first book of poetry, A Nuclear Family (UpSet Press).
About Purvi Shah
Purvi Shah's favorite art practices are her sparkly eyeshadow, raucous laughter, and seeking justice. She won the inaugural SONY South Asian Social Service Excellence Award for her leadership fighting violence against women. Her new book, Miracle Marks, explores women, the sacred, and gender & racial equity. With artist Anjali Deshmukh, she creates interactive art at Circle For.
About Irene Villaseñor
Irene Villaseñor's writing appears or is forthcoming in Queer Nature: An Ecoqueer Poetry Anthology, My Phone Lies to Me: Fake News Poetry Workshops as Radical Digital Media Literacy, Nepantla: An Anthology Dedicated to Queer Poets of Color, The Santa Fe Writers Project's Quarterly Journal, Nat. Brut, and The Yellow Medicine Review: A Journal of Indigenous Literature, Art, and Thought. She is currently working on a manuscript about contemporary Indigenous art.
The Poet's Table Event Team: JoAnn Castillo, Molly Gross, Craig Howarth, and Genevieve Wollenbecker.
The Poet's Table is conceived and produced by artist and poet Molly Gross and is supported by a New York City Artist Corps grant. Thank you to Chenelle Rico and Nitehawk Cinema for all their support.