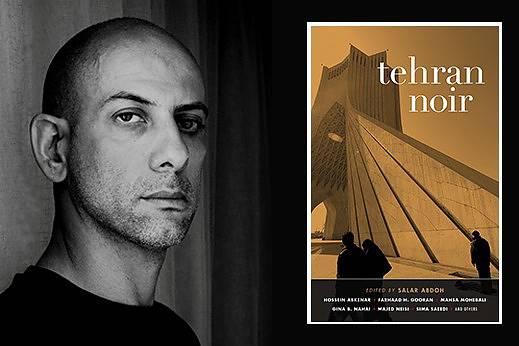 'Tehran Noir' and 'Tehran at Twilight'
Monday, November 17, 2014
6:30 – 8:30PM
Join Iranian writer and editor Salar Abdoh (The Poet's Game) for a conversation with poet, author, and activist Roya Hakakian (Journey from the Land of No and Assassins of the Turquoise Palace) on a new anthology of Iranian and Iranian American writing, Tehran Noir, edited by Abdoh, and his new novel Tehran at Twilight. A book sale and signing will follow the program.
The anthology Tehran Noir, the latest in the Akashic Noir Series, features new stories of crime and mystery from notable Iranian American and Iranian writers. The majority of contributors to Tehran Noir are resident in Iran, providing an insider's perspective through the lens of the "noir" genre. Writers include Gina Nahai, Lily Farhapour, Azardokht Bahrami, Yourik Karim-Masihi, Vali Khalili, Farhaad Heidari Gooran, Aida Moradi Ahani, Mahsa Mohebali, Majed Neisi, Danial Haghighi, Javad Afhami, Sima Saeedi, Mahak Taheri, and Hoseein Abkenar. Their stories offer an unflinching fictional exploration of the underbelly of Tehran, where crime, corruption, and vice plumb the depths while a Morality Police imposes a propriety which runs up against the brutal vitality of a living city.
Abdoh's latest novel Tehran at Twilight is a compelling tale of friendship, betrayal, and international intrigue against a backdrop of intrigue, political repression, and the ever-present threat of violence. Abdoh's book also offers a telling glimpse into contemporary Tehran and spins a compelling morality tale of identity and exile, the bonds of friendship, and the limits of loyalty.
Organized by
Asia Society
Contact
printern@asiasociety.org