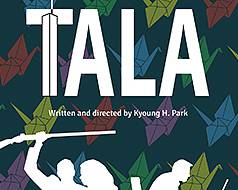 TALA
January 8 – January 23, 2015
All Day
Written and Directed by Kyoung H. ParkPerformed by Rafael Benoit, Daniel K. Isaac, and Flor de Liz PerezProduced by Kyoung's Pacific Beat
World PremiereThe Performance Project at University Settlement184 Eldridge Streetbetween Rivington St. and Delancey St.New York CityJanuary 8th-23rd, 2015Purchase Tickets OnlineorSupport TALA by making a donation to our Indiegogo Campaign!
Synopsis: TALA blends the semiautobiographical story of a gay, Korean-Chilean playwright living in America with the tale of Pepe and Lupe, two lovers inspired by Chilean poets Pablo Neruda and Gabriela Mistral. This surreal tragicomedy delves deep into the absurdities of being an artist while trying to write within the margins of so many broken systems.
Creative TeamSound Design: Chris Barlow and Lawrence SchoberLighting Design: Chuan-Chi ChanCostume Design: Elizabeth GrothComposer: Svetlana MarasVideo Design: John KnowlesInstallation Art: Jason KrugmanDramaturg: Sarah Rose LeonardChoreography: Yin YueSet Design: Marie Yokoyama
Follow TALA's Scrapbook.
Tags
Organized by
a4 - Network Admin