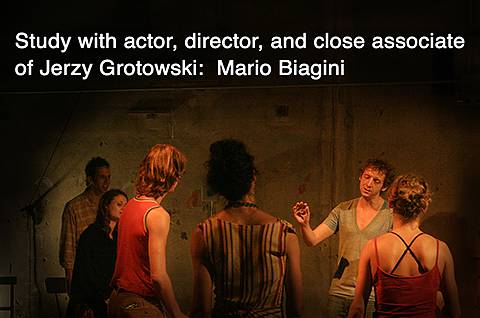 Study with close associate of Jerzy Grotowski Mario Biagini in New York City January, 2014.
January 6 – January 23, 2014
10 – 2PM
Early Registration is now open.
Space is limited, register before December 3rd and get 15% off
A rare opportunity to work with actor, director, and close associate of Jerzy Grotowski Mario Biagini.
This LEIMAY Ludus Lab is open to actors, dancers, body rooted performers or anybody interested in exploring the elements of the actor's craft. And it is divided in three different modules: 1) Singing and Organic Behavior, 2) Intentional Action – Spontaneity and Structure, and 3) Physical Training.
Within the whole duration of this LEIMAY Ludus Lab taught by guest director Mario Biagini, participants will explore fundamental elements of the actor's craft such as organicity, relation, contact, impulse, intention, action and reaction, the relation between process and form, and strive towards an understanding of the difference between movement and action. Under the direction and guidance of Biagini, participants will work on the creation of individual and collective acting scenes, on singing ancient traditional songs, and learn elements of the physical training developed at the Workcenter of Jerzy Grotowski and Thomas Richards over the past twenty-seven years. These modules will allow participants to approach the basic aspects of practical research at The Workcenter, and to discover their own individual and unique approach to creation.
Please read descriptions for each individual module in LEIMAY website as you might be expected to bring or prepare materials for each module.
Tuition: $840 all modules / $320 single modules
Use this 15% off code at check out: MWS14 Discount code apply for early registration only. Offer not valid for single modules. Offer not valid with other discounts.
Full Schedule: Monday through Wednesday, 10am to 2pm. January 6 – 9, 13-16 & 20-23. Times: 10am to 2pm
Check LEIMAY's website for detailed Schedule.Online registration is required. Registration is now open. Space is limited so we encourage you to register early.
Organized by
LEIMAY
Contact
leimay@leimay.org