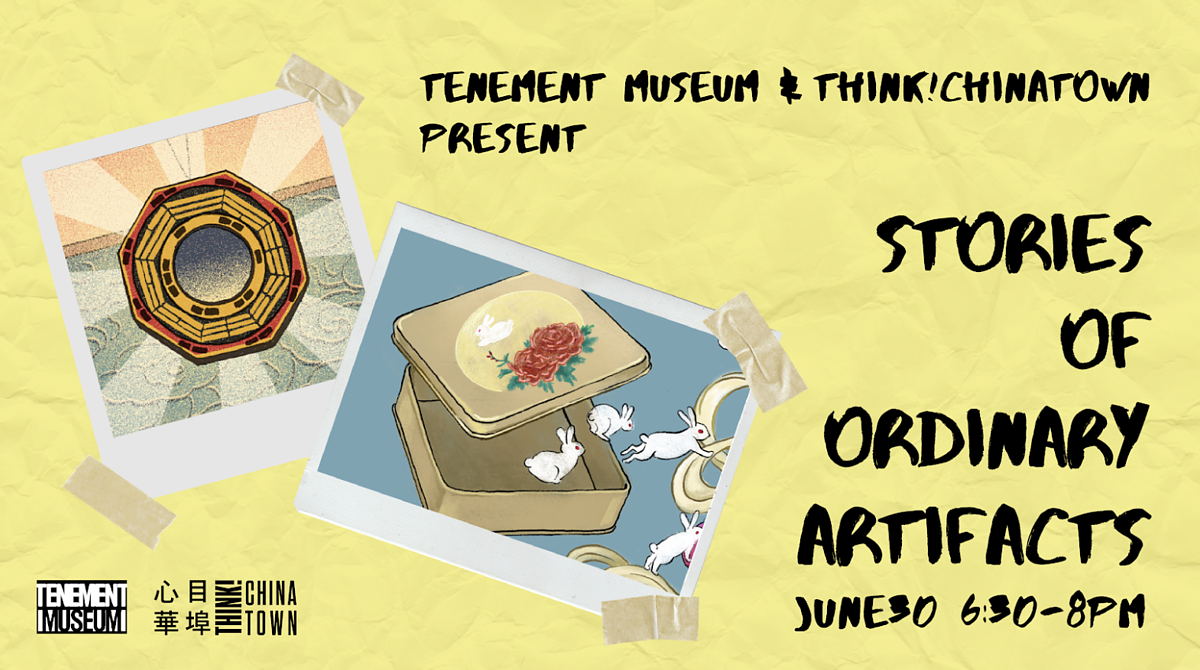 Community Event
Stories of Ordinary Artifacts
Tuesday, June 30, 2020
6:30 – 8PM
What happens when everyday objects are recognized as artifacts? See how ordinary items like a mooncake tin or hawthorn candy can spark conversations of collective memory and strengthen cultural understanding. Join the Tenement Museum and Think!Chinatown for an intimate look at the art and story behind everyday artifacts in Manhattan's Chinatown. We'll 'visit' the Wong family, the first Chinese American family story to be featured in the Tenement Museum. Then, we'll celebrate the launch of Think!Chinatown's third season of their Everyday Chinatown storytelling project. Listen in on audio recordings from the neighborhood and see how these artifacts are visually interpreted by artists John Lee, Lilly Lam, Hui Ma, and XinMei Liu. We'll also explore artifacts from the Tenement Museum's Your Story Our Story online digital storytelling exhibit.
Everyday Chinatown is the collective storytelling of ordinary artifacts produced by Think!Chinatown. The everyday object – bagua (octagonal fengshui mirror), penzi (plastic basin), earpick – is a beautiful way to explore collective memory, honor histories that represent us, and value inter-generational learning. Stories about objects found in everyday life in our community, are recorded in Cantonese, Mandarin, and English. In previous years, artists have created artful displays in shopfront windows of Chinatown businesses linked to a cellphone audio guide system to present these stories. This year, four API artists have been invited to create animated illustrations to accompany the stories. This project is supported by the Citizens Committee for New York City, and the New York City Department of Cultural Affairs in partnership with the City Council and the New York State Council on the Arts.
Your Story, Our Story collects stories of cultural identity from participants around the country in a digital exhibit at yourstory.tenement.org. Through objects, traditions, and more, people share parts of their cultural heritage to explore our similarities and differences across the U.S.