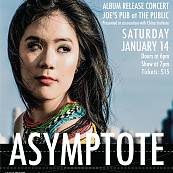 Stephanie Chou Presented in Association with China Institute
Saturday, January 14, 2017
7 – 9PM
One Night Only Tickets: $15
Stephanie Chou is a saxophonist, singer, and composer based in NYC. Her music combines classical and Chinese influences with jazz and pop harmony and rhythm. This concert celebrates the release of Asymptote, her third album. Asymptote features fresh arrangements of Chinese classics including "The Moon Represents My Heart" and "Kangding Love Song," a tongue-twister about Eating Grapes, and songs influenced by her love of mathematics and literature.
Chou's goal is to create global music that is artistically challenging, bold and fearless, and which presents a unique musical perspective.
Stephanie Chou - voice, alto saxophone, compositions Andy Lin - erhu, viola Kevin Hays - piano Kenny Wollesen - drums, percussion James Wordsworth - background vocals
About Stephanie Chou
Raised in Irvington, NY, Stephanie Chou studied mathematics and music at Columbia University. In 2011, she released her first album, Prime Knot, a jazz quintet CD featuring trumpeter Marcus Printup (Jazz at Lincoln Center Orchestra). She has written for ballet and theater as well as for the concert stage. Her work "C for G" was commissioned and choreographed by American Ballet Theater principal ballerina Susan Jaffe, and features Kenny Wollesen on percussion and vibraphone. It was premiered in 2012 at Goucher College, Maryland. Steph will soon release her third album, Asymptote, which features jazz musicians Kenny Wollesen, David Binney, John Escreet, and Zack Lober, as well as viola and erhu virtuoso Andy Lin. She has performed her music in Taipei, Taiwan and Beijing, China. She has also performed throughout New York City at venues including Carnegie Hall, B.B. King's, Miller Theater, Drom, and The Cutting Room, as well as in music festivals in Italy, New Orleans, Chicago, Vermont (Discover Jazz Festival), and NY (Summer on the Hudson, Harlem Festival of the Arts, Sunset Jazz at Lyndhurst).
In 2014 she formed a duo with guitarist Octavia Romano. While appearing frequently around New York City, they released their first singer-songwriter CD, Compass, in early 2016. She has performed as a guest artist for workshops on leadership and jazz with the Columbia University Business School, and is currently working on new projects with mixer/engineer/producer Roy Hendrickson.
Chou was recently awarded the 2016 Jerome Fund for New Music (JFund)– a grant from the American Composers Forum with funds provided by the Jerome Foundation to write, record, and premiere a new piece of music with China Institute.
***For more information and to purchase tickets, please visit here.
Tags
Organized by
Joe's Pub