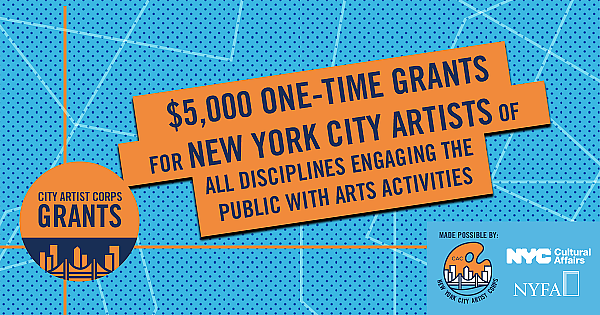 Webinar
Staten Island Arts' City Artist Corps Grants Information Session
Wednesday, July 28, 2021
5 – 6:30PM
Staten Island Arts is proud to announce our involvement with the City Artist Corps Grants program, which has begun distributing one-time $5,000 grants to artists engaging the public with arts activities across our city. The grants are intended to support NYC-based working artists who have been disproportionately impacted by COVID-19.
New grants can feel daunting, but Staten Island Arts is here to help you navigate the process! We're hosting TWO online info sessions to review all you need to know to get started. We recommend participants review NYFA's program info before attending.
You must RSVP by 12:00 PM EST day of to attend. Registered guests will be emailed a Zoom link about an hour prior to the session itself.
For all questions about eligibility or help with completing an application, please email Kelly Kuwabara at kkuwabara@statenislandarts.org. Sign up for a one-on-one session here.
For additional support, or if you have further questions, you can visit Frequently Asked Questions, Technical Assistance Schedule, and/or Translated Information.