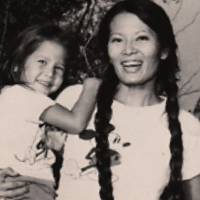 Spirits Rising - Celebration
June 10 – July 2, 2015
8 – 9:30PM
Jazz Center of New York presents
Spirits Rising - Celebration
written and performed by
Jude Narita
How motherhood blesses you, changes you, and how life is never the same on your way to becoming a ninja mom. Solo play about being a mother, artist, free spirit, activist, and being tired. Humorous, thought-provoking, and
insightful revelations on the adventurous journey thru motherhood. Stories of love, laughter, happiness and heartache.
"Stories I've heard, seen, lived, and
dreamed." - jude
Award-winning artist Jude Narita has performed her
original solo plays on Asian and Asian American women for over 20 years. She has toured all over the United States, and internationally.
"Narita is a charming, assured performer whose creative characterizations are as thought-provoking as they are
entertaining." Los Angeles Times
"Narita fills the expansive stage with her silken transformations" Daily Variety
"Aside from Jude Narita, few contemporary performer-writers can hold an audience transfixed for 90 minutes, as did such past platform storytellers as Charles Dickens,
Oscar Wilde, and Mark Twain…With chameleon celerity, Jude Narita can shift from dramatic to comedic
characterizations" DramaLogue
13th Street Repertory Company
50 West 13th Street
(between 5th and 6th Ave)
New York, NY 10011
Opens Wed June 10
runs 4 weeks Wed & Thurs to July 2
**NOTE: No performance Wed, June 24. Instead, performance will be on June 23, that week only.**
8 PM
$20 general
$15 Students, Seniors, Alliance and
Cobi's members
spiritsrising.brownpapertickets.com
more info: www.judenarita.com or 516-922-2010
Tags
Organized by
a4 - Network Admin