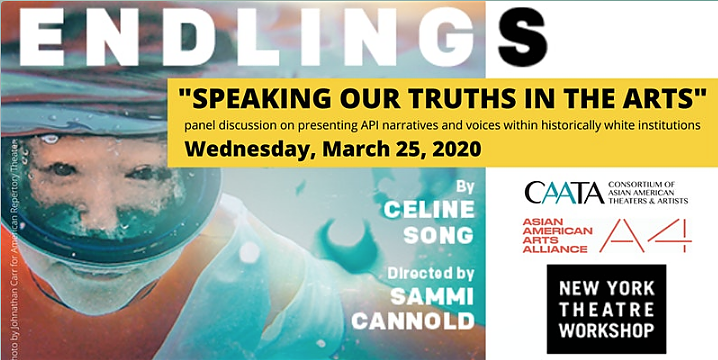 ConversAAtions
Speaking Our Truths - POSTPONED
Wednesday, March 25, 2020
6:30 – 8:30PM
Note: This event has been postponed and will be rescheduled as soon as possible.
In celebration of New York Theatre Workshop's NYC premiere production of Celine Song's ENDLINGS, A4, New York Theatre Workshop, and the Consortium of Asian American Theaters & Artists (CAATA) invite you to Speaking our Truths in the Arts, a lively panel discussion on presenting API narratives and voices within historically white institutions.
How do we, as Asian and Asian American artists, authentically present our stories - on stage, on screen, on the page, and in view - in spaces that are historically white centered?
The panel will include a diverse panel of artists and arts leaders of all disciplines from the API diaspora, facilitated by co-moderators Gaven Trinidad, NYTW Community Engagement Associate, and Sahar Ullah, Phd., Columbia University.
Refreshments will be provided.
Panelists include: Danielle Iwata (Americans for the Arts), Natasha Sinha (Signature Theatre), Joseph O. Legaspi (Kundiman), and others (soon to be announced).
Those who register by March 8th for the event will receive a special discount code for $25 to any performance of Celine Song's ENDLINGS. Get tickets here.
Contact
a4@aaartsalliance.org