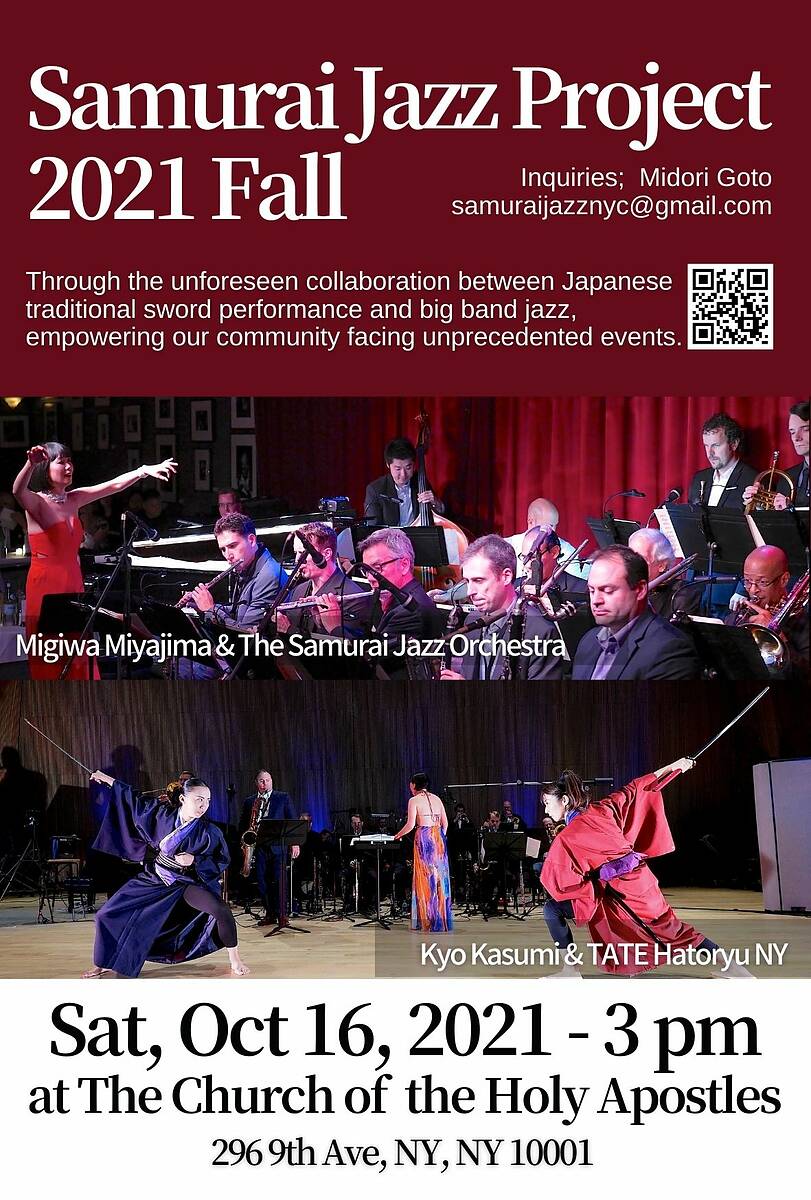 City Artist Corps
Samurai Jazz Project
Saturday, October 16, 2021
3PM
Samurai Jazz Project Fall 2021 will feature the Jazz Ensemble and Tate (Japanese traditional sword performance) at Church of the Holy Apostles Chelsea (296 9th Avenue, NY) on October 16th, 2021, 3:00pm.
This event is the new collaborative art form empowering our community facing unprecedented events and hurdles through the unforeseen collaboration between Tate, Japanese traditional sword performance, and big band jazz.
Migiwa Miyajima, Composer/Conductor, and the special 17-piece "Samurai Jazz Orchestra" will play the original composition. Integrating musical elements from Japan with the harmonies and rhythms of modern jazz, Miyajima creates striking and sophisticated sounds. Showcasing the boundless gifts of featured musicians by her signature ensemble music, she seeks to highlight the unique "colors" that all human beings contribute to society.
Kyo Kasumi, Tate actor / Choreographer, is the sole choreographer and the main actor of the project. Her style "Tate", the Japanese art/sword fighting choreography involves mastering its elegant movements and the Samurai spirits respecting and honoring what surrounds us even our enemies. She believes that it is important to spread this spirit in this age of division.
For COVID-19 safety, all guests are asked to show proof of vaccination (CDC Vaccination Record Card, excelsior pass etc.). Also, will be asked to wear a face covering during the event, and agree to visit the venue at his/her own discretion and responsibility.
The venue will be thoroughly disinfected following the regulation of CDC and New York City.