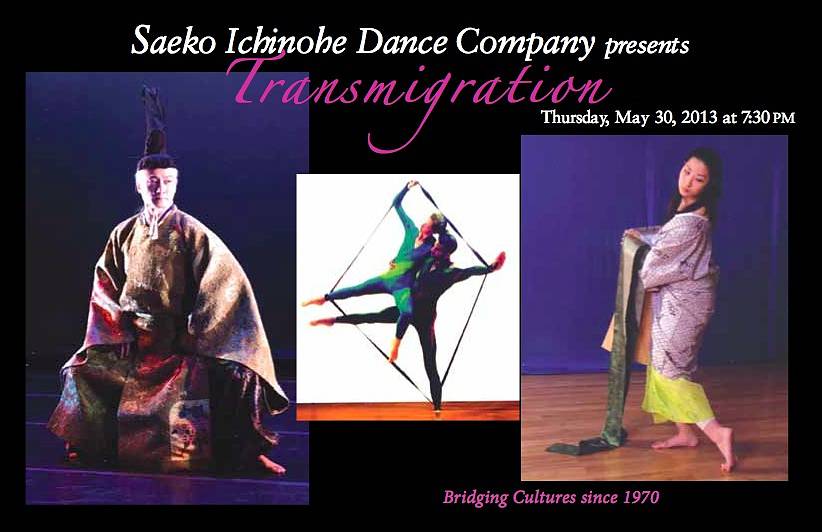 Saeko Ichinohe Dance Company presents "Transmigration"
Thursday, May 30, 2013
7:30 – 8:45PM
For over four decades, the New York based Saeko Ichinohe Dance Company has celebrated the fusion of Eastern and Western tradition and innovation. The company will present a world premiere, Transmigration, and other works, showcasing the imaginative interpretations of diverse Japanese art forms into the modern dance vocabulary.
In Utamaro (2004), a solo piece by a female dancer in kimono-type costume depicts the world of the fisherman's life by the ukiyoe master Utamaro. The company transforms into each disciple of Buddha in the woodblock print artist Shiko Munakata's The Ten Great Disciples of Sakyamuni in Homage to Shiko Munakata. Guest performer Toshinori Hamada will present his contemporary interpretation of the Noh Theater work Aoi no Ue (Lady Aoi), a haunting story of jealousy and possession with Kristina Berger and Saeko Ichinohe. Transmigration, a world premiere, concludes the evening featuring projected images by abstract expressionist Ansei Uchima to the captivating music of percussion and contrabass composed by Hifumi Shimoyama. Uchima's award-winning works are in the permanent collections of the Metropolitan Museum of Art, Whitney Museum and National Gallery of Art, among many others. Pioneering Japanese avant-garde composer, Shimoyama has achieved acclaim especially throughout Europe.
This performance is dedicated to the company's long time board members, who sadly passed away in 2012: Ms. Beate Gordon, Ms. Celeste Holm and Mr. Kazuto Ohira.
Tickets: $25 ($15 for Students & Seniors)
Purchase: www.smarttix.com / 212-868-4444
Supported by: Lower Manhattan Cultural Council, Puffin Foundation, Ltd.,
Mitsubishi Heavy Industries America, Inc.,
Nippon Express Foundation, Consulate General of Japan in
New York
For more information: saekoichinohedance@gmail.com / 646-369-4068
Tags
Organized by
Saeko Ichinohe Dance Company
Contact
saekoichinohedance@gmail.com