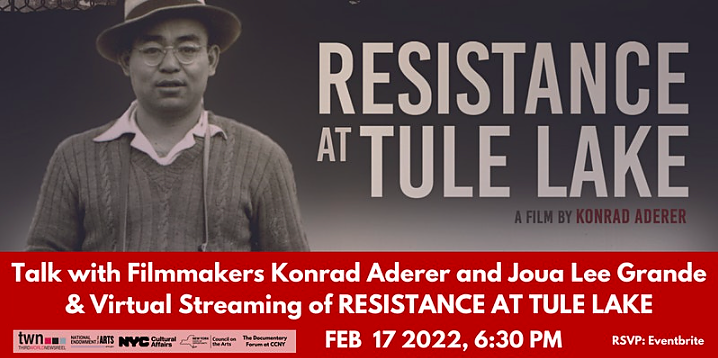 Panel Discussion/Talk
Resistance at Tule Lake
Thursday, February 17, 2022
6:30 – 8PM
To mark Remembrance Day, join us for a talk with film directors Konrad Aderer (RESISTANCE AT TULE LAKE) and Joua Lee Grande (YOUA VANG LEE MOURNS GEORGE FLOYD) about AAPI resistance, activism and filmmaking.
Join us as director Aderer talks about the making of the film, the internment itself and its implications for us now, in the face of increasing attacks on Asians, on immigrants overall, on our voting rights. Special guest, filmmaker/activist Joua Lee Grande, will also join to share her short Youa Vang Lee Mourns George Floyd about a Hmong mother, and talk about the organizing work that activists/media makers are doing currently.
RSVP to first, watch RESISTANCE AT TULE LAKE online between 2/16-2/`18 and second, join the talk to with filmmakers and watch documentary short YOUA VANG LEE MOURNS GEORGE FLOYD.
ABOUT RESISTANCE AT TULE LAKE
"Resistance at Tule Lake is a potent piece of history at a time when the United States is once again feeling less than hospitable." - Mike Hall, The New York Times
During World War II, over 110,000 Japanese Americans, mostly on the west coast, were forced from their homes, taking only what they could carry. They were imprisoned in "internment" camps, with no charges against them, and no idea how long it would last. The dominant narrative of this incarceration of Japanese Americans has been that they behaved as a "model minority," cooperating without protest and proving their patriotism by enlisting in the Army. Resistance at Tule Lake, a feature-length documentary directed by Japanese American filmmaker Konrad Aderer, overturns that myth by telling the long-suppressed story of Tule Lake Segregation Center. Resistance at Tule Lake aired on PBS in 2018 and 2019, and has screened in numerous festivals and venues across the country.
This event is sponsored by Third World Newsreel and the Documentary Forum at CCNY and is cosponsored by the Asian American / Asian Research Institute/ City University of New York (AAARI).