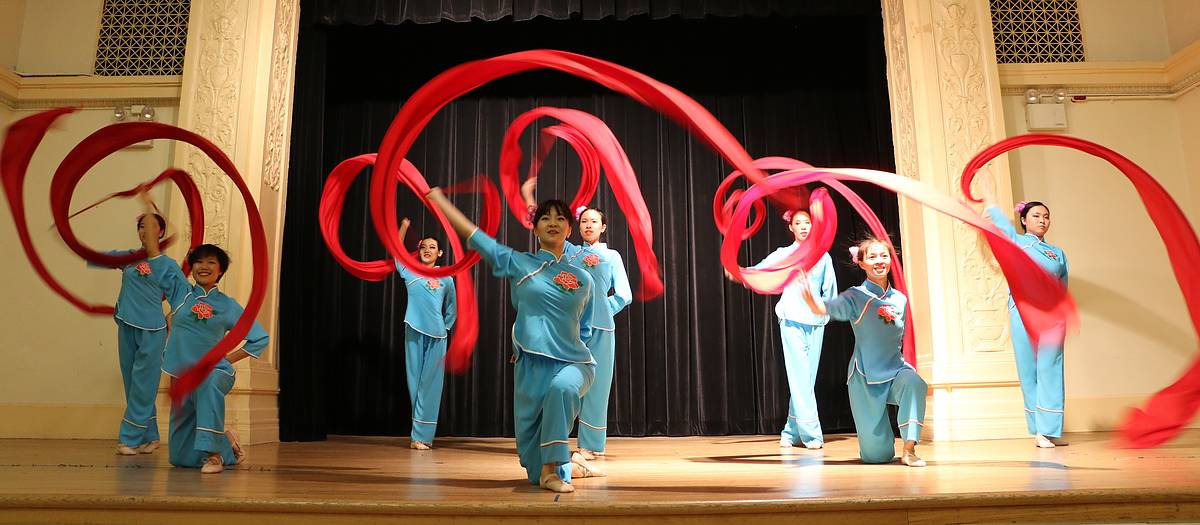 Performance
Red Silk Dancers: Workshop & Demonstration 红绸舞蹈团: 中国民俗舞蹈示范及工作坊
Saturday, October 17, 2020
1:35 – 3PM
The Red Silk Dancers will perform dances based on the Chinese folk traditions including the fiery red silk and the dynamic sword dance, swaying fans from Yunnan province. Margaret Yuen, founder and director, will demonstrate the basic steps and techniques of swirling the long "ribbons" in the air that resemble ocean waves, rainbows and flying dragons.
Schedule:
1:45pm Performance by the Red Silk Dancers
2:00-3:00pm Dance Class For All Ages
This event is held outdoors in the park at Pier 35 (adjacent to Basketball City). Wearing a mask is required to participate in this event. Please observe social distancing practices.
---
CHINATOWN ARTS WEEK is a festival celebrating the cultural richness of Manhattan's Chinatown.T!C has produced several cultural events throughout the week, all of them are free to the public. By presenting grassroots Chinatown artists and emerging Asian American artists in the same context, we hope to bring the generations together and connect with a wider arts audience. ChAW also highlights cultural happenings presented by our neighbors, to increase awareness of Chinatown's cultural assets. Beyond this week, we hope that visitors and neighbors alike will recognize and engage more in Chinatown's cultural offerings.
Think!Chinatown is a 501©(3) non-profit based in Manhattan's Chinatown. Our mission is to build intergenerational community through neighborhood engagement, storytelling & the arts. We amplify the voices of our neighbors & advocate for equity in resources for Chinatown, honor histories that represent us & value intergenerational learning, and present grassroots arts of Chinatown & emerging Asian-American artists in context of each other. Think!Chinatown is here to listen, to respond, and to build Chinatown's capacities as a strong & vibrant immigrant neighborhood of NYC. Find more about T!C and Chinatown Arts Week at: https://www.thinkchinatown.org/
Chinatown Arts Week 2020 is made possible in part with public funds from Creative Engagement, supported by the New York State Council on the Arts with the support of Governor Andrew Cuomo and administered by LMCC. It is also funded, in part, by a grant from the NYC & Company Foundation, Con Edison, and contributions from many generous business and individual supporters like you!