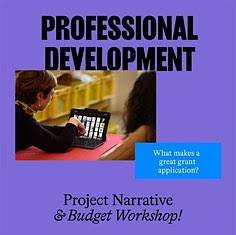 Workshop
QCA Project Narrative & Budget Workshop
Wednesday, January 13, 2021
6 – 7:30PM
What makes a great grant application, really?
And what goes on behind the scenes of a panel - how are decisions made?
In this session, you'll learn what makes a compelling grant application: whether you're applying for our Queens Arts Fund, Su Casa, or another arts opportunity.
IN THIS WORKSHOP, YOU WILL:
Hear from QCA staff and panelists as to what makes a compelling Project Narrative and Budget: two of the most essential components of a grant application
Read real and fictionalized examples of great and not-so-great applications (with excerpts from actual funded proposals!)
Have the opportunity to solicit feedback on a grant application you're working on (project narrative and budget).
Meet fellow artists and cultural leaders planning creative projects in Queens
Receive priority for our upcoming "Ask a Gatekeeper" series on January 21, 2020, where you'll have the opportunity to share your progress with a real QCA panelists (more info coming soon)
Organized by
Queens Council on the Arts