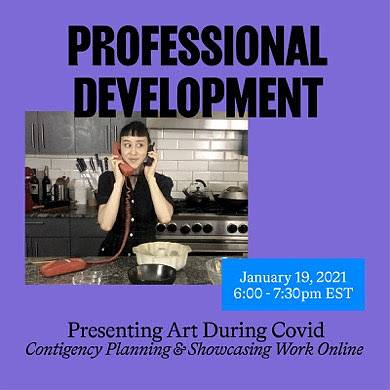 Workshop
QCA Presenting Art During Covid: Contingency Planning & Showcasing Work Online
Tuesday, January 19, 2021
6 – 7:30PM
Covid 19 has forced artists and organizations to completely reimagine how to present cultural projects. Everywhere, creatives are asking ourselves:
How can we successfully showcase our work in the digital sphere?
How does presenting work online change the creative process?
What are some of the unforeseen silver linings to presenting arts programming online?
IN THIS WORKSHOP, YOU WILL:
Get ideas for how to present your work online, whether you're working in performing, visual, literary arts, or beyond
Learn how you can Facebook Live or Youtube Live stream your arts event from the creative producer behind our ACP Live series, a dynamic virtual performance showcase
Benefit from QCA staff walking you through how to answer the new "contingency plan" question in the Queens Arts Fund (QAF) application (ideal for those planning to apply for QAF 2021!)
Hear from a Queens Art Fund and Artist Commissioning Program Grantee as to how they managed to successfully transition their project to the digital sphere during the height of the pandemic - and how you can, too
Be invited to share your contingency/plan for presenting your work online at upcoming Creative Conversation dedicated to the topic in February (details coming soon!)
Organized by
Queens Council on the Arts