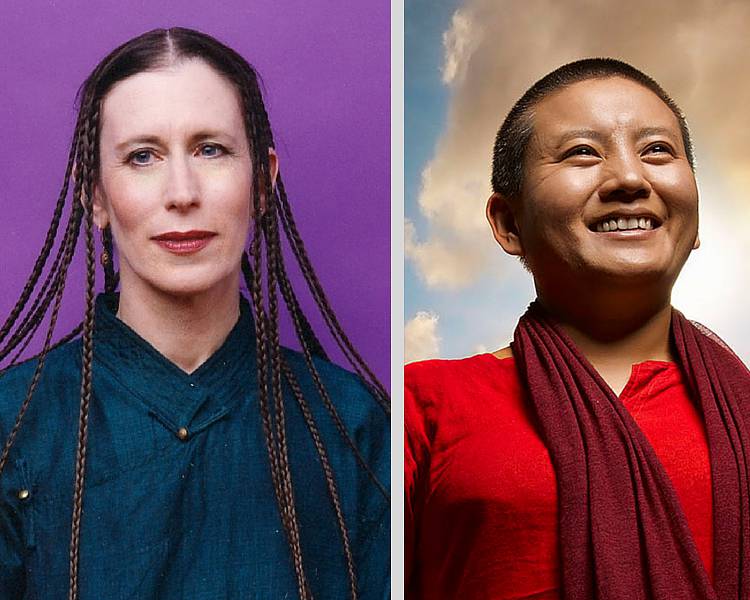 Q&A with Meredith Monk & Ani Choying Drolma
Tuesday, November 15, 2016
7:30 – 9PM
The world premiere of Meredith Monk and Nepalese singer Ani Choying Drolma performing an evening of works, each offering an engagement with art as spiritual practice, will take place on November 17 at National Sawdust in Brooklyn. Join World Music Institute for this special pre-concert conversation between the two artists.
The conversation will be moderated by Steve Smith, music journalist and director of publications at National Sawdust. Smith is the former music editor of Time Out New York, and was a classical-music reporter and reviewer for The New York Times. His writing has appeared previously in the Washington Post, Village Voice, Billboard, Musical America, The Wire, Signal to Noise, Decibel, Jazziz, Jazz Times, Down Beat, Chamber Music, and Symphony magazines.
Meredith Monk is considered one of the most significant and influential visionaries in the performing arts of the past fifty years. A composer, singer, director, filmmaker and installation artist, she is considered a pioneer of what is now called "extended vocal technique" and "interdisciplinary performance". Also a Buddhist practitioner, Monk performed a Vocal Offering for His Holiness the Dalai Lama at the World Festival of Sacred Music in 1999, and has led numerous workshops on Voice as Practice throughout the world. In September 2015, Ms. Monk received the National Medal of Arts from President Obama.
Ani Choying Drolma, is a Nepalese Buddhist nun who performs worldwide singing traditional and modernized Buddhist chants as well as Nepali and Tibetan songs to support her numerous humanitarian efforts including the education of young girls, care of the elderly, and providing medical services for the underprivileged and dispossessed through her Nuns Welfare Foundation. Her autobiography, Singing for Freedom, is an international bestseller and she is Nepal's first ever appointed UNICEF ambassador.
Meredith Monk and Ani Choying Drolma first met in 2005 while performing at the opening of the McGuire Theater at the Walker Arts Center in Minneapolis, MN. A longtime admirer of Ani Choying Drolma's music, Monk initiated the invitation for them to come together in this shared evening of performances.
This is a co-production of The College of Performing Arts at the New School and World Music Institute
Tags
Organized by
a4 - Network Admin