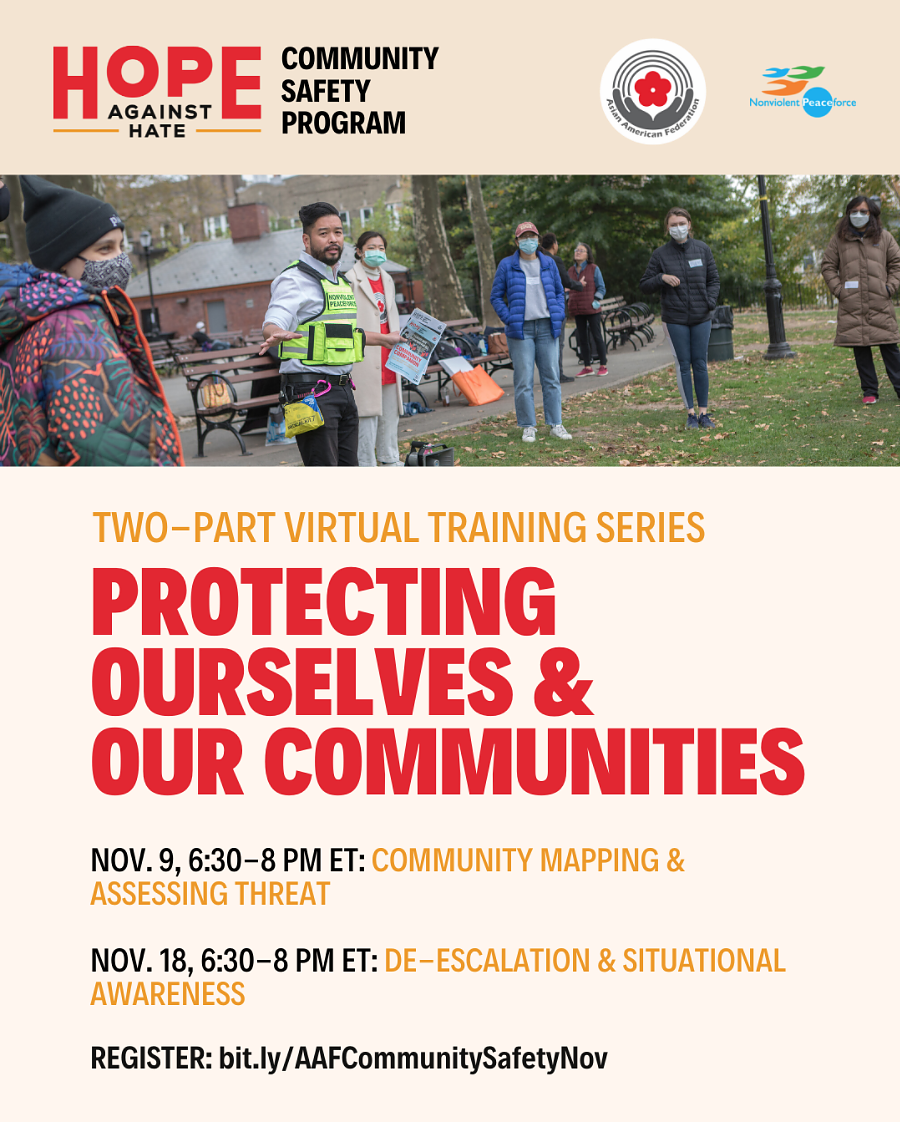 Community Event
Protecting Ourselves & Our Communities (Two-Part Virtual Training Series)
November 9 – November 18, 2021

Attacks on Asian New Yorkers have continued well into 2021, making it clear that we need Community Safety Programs rooted in mutual protection to safeguard our seniors and other vulnerable community members.
Join the Asian American Federation (AAF) and Nonviolent Peaceforce to learn how we can stand up and protect our communities, and to become equipped to volunteer for AAF's Community Safety Program in NYC.
Note: This training series requires participation in both sessions since the trainings build on each other. By completing both trainings, participants are eligible to serve as a Community Companion in AAF's Community Safety Program in Sunset Park, Brooklyn; Chinatown, Manhattan; and Flushing, Queens.
Training #1: Community Mapping & Assessing Threat
Date: November 9, 6:30 - 8:00 pm ET
Participants will learn about a proactive approach to community safety and protection using a threat assessment framework. We will discuss nonviolence, informed consent, and right relationship as guidelines to inform our work. We will also look at how we can understand our collective vulnerabilities and capacities, and generate creative ways in which communities can show up for each other by using the tools of community mapping and risk formula.
Participants will be guided through interactive activities, including creating a threat assessment unique to their own experience. Participants will walk away feeling equipped to prepare and advocate for the unique needs of their community.
Training #2: De-escalation and Situational Awareness
Date: November 18, 6:30 - 8:00 pm ET
Participants will be introduced to the practice of everyday mindfulness and how to use these strengths and practices for the purposes of personal and community safety. This training will build on a holistic safety and security framework to look at the window of tolerance; trigger points and anchor points; the OODA Loop; somatic scanning; and holistic check-in.
Participants will gain a deeper understanding of how the world affects them, their instinctual responses to the world, and how to stay grounded and respond safely in uncertain situations.
Organized by
Asian American Federation